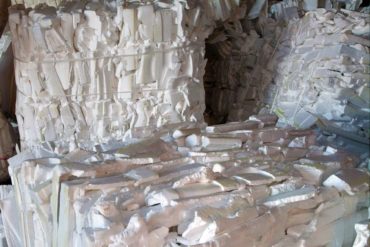 Expanded, or foamed, polystyrene (EPS), which people usually call Styrofoam, has long been on the radar of the environmentally conscious. Not only does this material take up a lot of space in the landfill, it's also not biodegradable. And if you're like many others who love the convenience of online shopping, you know what a nuisance that packing material becomes if you're trying to throw it away.
Lucky for us, Kitsap County will have a free recycling event on July 7 at the Kitsap Fairgrounds, so you can bring all your clean expanded polystyrene. Any packing peanuts and Styrofoam blocks will be accepted, along with clean and unstained food packaging and blue trays (which need to be separated).
Here are just some reasons why you should recycle expanded polystyrene: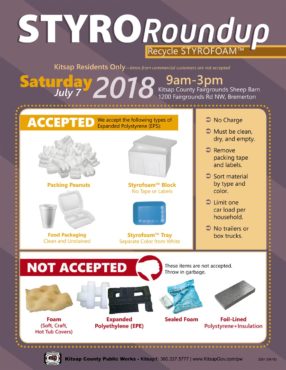 And two more reasons to bring EPS for recycling on July 7:
The materials will be delivered to Styro Recycle in Kent, where an extruder will take the air out of the EPS and compress it into 50-pound blocks. Styro Recycle has markets around the world in countries like Spain and Asia, where it's demand.
The recycled EPS is used to manufacture products such as picture frames, crown molding, CD/DVD cases and switch plate and outlet covers.
STYRORoundup is Kitsap County's second recycling event, organized by the Solid Waste Division of Public Works. Eirik O'Neal, education and outreach specialist, says the first event, in December, exceeded expectations — 160 cubic yards (enough to fill a 50-foot trailer) was collected from about 400 households.
"As people were dropping it off, many said they were happy to have this option," he says. "The closest place to Kitsap to recycle EPS is in Tacoma."
Based on the outcome of the second recycling event, the county will gauge interest and decide whether to organize more and how frequently.
What to Bring for Recycling
What you need to do:
Make sure the containers are empty, clean and dry.
Remove any labels and packing tape.
Sort the materials by type and color.
Only bring packing peanuts, packing blocks, unstained food packaging and trays. Any other type of foam, as well as expanded polyethylene (EPE) will not be accepted.
The recycling event is only for residential customers. The hours are 9 a.m. to 3 p.m. and location is the Sheep Barn. Kitsap County Fairgrounds is located at 1200 Fairgrounds Road NW in Bremerton.