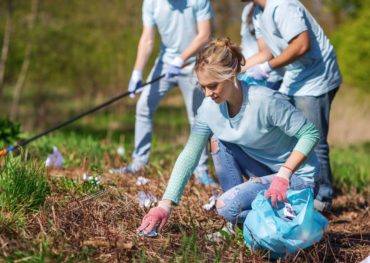 United Way of Kitsap County is rallying hundreds of volunteers to join the 25th Annual Day of Caring that takes place beginning at 7:30 a.m. Friday, June 22. Check-in, which includes breakfast, a to-go lunch, T-shirt, water and other giveaways, will be at the Presidents Hall (behind the Kitsap Sun Pavilion) at the Kitsap County Fairgrounds. Work will wrap up by mid-afternoon.
Volunteers are needed to help with painting, repairing county parks trails, supporting foster kids, planting gardens that supply area food banks, restocking food bank shelves, building shelter for the unsheltered, improving playgrounds and more. Families, businesses, churches, youth groups and other organizations are encouraged to participate. There are many family-friendly projects that will create memories while doing work that matters.
Last year, more than 450 volunteers invested approximately $72,900 in sweat equity. Organizations hosting over 20 projects in 2018 include: Kitsap County Parks, Homes for All, Kingston Parks, Trails and Open Space, Bremerton Foodline, Catholic Community Services, city of Bremerton, Clear Creek Trail, Goodwill, Haselwood YMCA, Holly Ridge Center, Kitsap Community Resources, Kitsap Conservation District, Kitsap Rescue Mission, Kitsap Tennis & Athletic Center, Peninsula Community Health Services, Poulsbo Parks & Recreation and Seeds of Grace.
Registration is simple. Visit www.VolunteerKitsap.org by Thursday, June 21, click on "View Projects" in the lavender Day of Caring bar then scroll through the projects to respond as an individual or team.
The event is made possible by sponsors Kitsap Credit Union, Harrison Medical Center/CHI Franciscan Health, Boeing, Kitsap Auto Outlet, Directors Mortgage, Kitsap Builders Association Foundation, Kitsap Sun, Fred Meyers, Morgan & Koontz PLLC, Judge Claire Bradley, Kitsap County, Fred Meyer — Team Bremerton, Air Masters and Costco.
For more information on the Day of Caring, contact Tamra Ingwaldson at (360) 373-2182 or tingwaldson [at] unitedwaykitsap [dot] org.