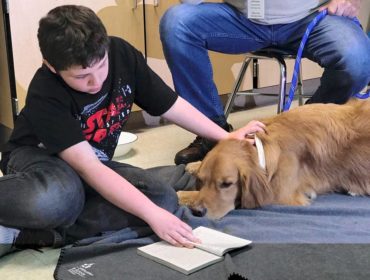 When 3-year-old golden retriever Brody walks through the halls of Minter Creek Elementary School, there is no doubt that this four-legged friend is regarded as the school's newest "star pupil." His arrival is greeted by happy hugs and huge smiles from both students and staff.
But this charming canine can do more than roll over and fetch. He can also help children learn to read.
Brody and his owner, Jeff Essayan, are the first pet therapy team to participate in the pilot "Tutors with Tails" reading program, which pairs certified therapy dogs with children struggling with literacy on the greater Gig Harbor Peninsula. Recently launched by Communities In Schools of Peninsula and the Peninsula School District, the canine program is aimed at boosting reading and communication skills, self-confidence, and love of books for early readers.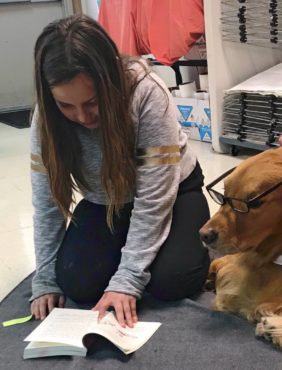 The program shares in a popular trend across the country, with schools tapping the potential of partnering dogs as reading aids.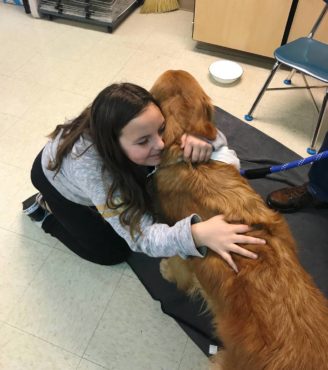 "There is so much research revealing the positive benefits of pet therapy," said Minter Creek Elementary Principal Ty Robuck. "In just a few short weeks, our students have already shown improvement and enjoyment in reading, and we are excited to see their continued literacy growth."
The dramatic academic and emotional improvement seen in students participating in pet therapy programs such as Tutors with Tails is no coincidence. Canine companions meet kids on their own terms, allowing learning to occur in a nonjudgmental atmosphere.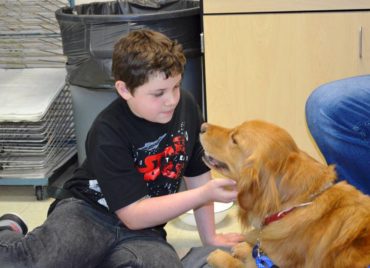 At Minter Creek Elementary, Brody lies on a blanket-covered pad on the floor of the school's art room, with students cuddled up next to him. Though the children believe they are teaching dogs to read, in fact, with the dog as an attentive audience, the kids are teaching themselves.
"It is so gratifying to see the powerful bond children have with Brody and how their confidence in reading skyrockets," Essayan said. "My favorite part of the day is hearing the kids say, 'I love you, Brody' at the end of the reading session."
Brody is a certified therapy animal. He and his owner have gone through a rigorous training program through Pet Partners International.
"We are excited about this new program and are grateful to Communities In Schools of Peninsula for their leadership in bringing this creative and exciting opportunity to our kids," said Rob Manahan, Peninsula School District superintendent.
Manahan hopes the program will expand to other schools next year, bringing other canine companions like Brody to lend an ear and continue to help other children become star readers.