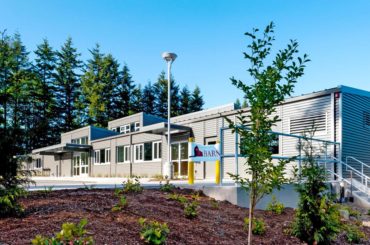 My experience with Bainbridge Artisan Resource Network (BARN) began in a tiny office behind a room full of looms on Rolling Bay. I met there with three or four other writers so we could critique each other's drafts. Occasionally, we got a bit rowdy and were (kindly) shushed by those trying to put on a meeting, work session or class among the looms right outside our door.
All of us, along with the weavers, jewelry makers and glass artists, looked forward to moving into the beautiful, spacious, new building taking shape at BARN on Three Tree Lane on Bainbridge Island. We had no idea how amazing that space would look and feel. What had been pleasant and helpful in our group became extraordinary and uplifting when we vacated our cramped former quarters for our new home.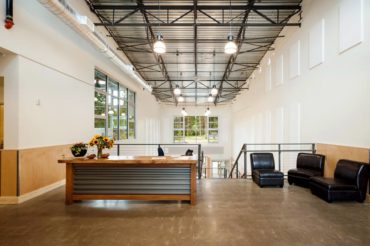 The building is stunning, artistic and functional. The main doors open into a foyer looking out over a two-story meeting/relaxing area with a few tables and couches. Classrooms, meeting rooms and workshops line two floors of hallways, housing 11 separate studios.
When the nonprofit opened the doors to this remarkable new home, there was hope we could reach 500 members the first year. We passed that mark on grand-opening weekend and had more than 1,000 members by the end of the first month!
Serendipity is an artist's greatest collaborator, and it is alive and well at BARN, producing enthusiasm, energy and spirit. It inspires all the artists to go beyond the mundane, try what's hard, help each other, have fun and celebrate the art of whatever studio they are in.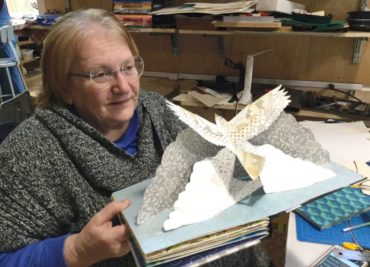 The writers group, for instance, has developed and offered classes for skills like blogging, character development, writing speculative fiction; and has arranged a forum on children's literature and roundtables on topics such as editing and screenwriting.
In true BARN style, on top of all that, just for fun, the writers group also put together a Valentine's party for 70 attendees. It featured wine and chocolate (thanks to help from the Kitchen Arts Studio) and local published authors reading short stories about love they wrote especially for the occasion.
That BARN spirit lives in all of the different studios. In Fiber Arts, for example, you'll find not only quilting, weaving, knitting, basketry, doll construction, print and pattern design, and more) but also people like Deanna Wilkes-Gibbs going the extra mile by guiding the effort to use organic dyes for yarn. The natural dyes are in a rainbow of colors from biological sources, some quite unexpected — like one produced from a bug found at the base of a certain cactus. A garden dedicated to growing the plants to use for dyes is scheduled for completion this year.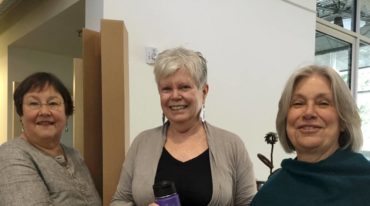 In the Book Arts Studio, picture books come alive, sometimes in 3D, like a truly extraordinary book about birds by studio lead M. J. Christensen. In the Metal Arts Studio, there are two shops, one for metal machining and one for welding and sheet metal work. Several member instructors have impressive backgrounds in those areas.
Caroline Goodwin, spokeswoman for BARN writes, "(The) breadth of talent also enables some exciting community service projects to take shape. Metal Arts is partnering with several other BARN studios including Electronic and Technical Arts, Woodworking and Media Arts, along with the City of Bainbridge Island, to help the Battle Point Astronomical Association refurbish the observatory telescope and facility. Metal Arts is also helping to make replacement blocks for the well-known local sailing vessel 'Adventuress.'"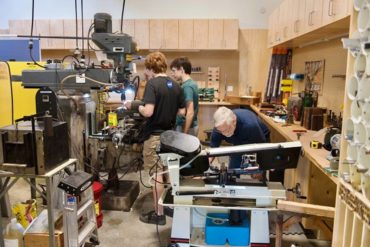 Whether you're interested in being a part of the projects or just learning and working on your own in one of the studios, you are welcome at BARN. In one recent, randomly chosen, ordinary week at BARN, the following classes were only a sampling of what was being offered:
Introduction to Wood-turning
Building a Kayak
A-Z of Glass Casting
Exploring Northwest Gold, Basketry
MIG or TIG Welding
Weaving 102
Discovering and Developing Character
Beach Glass Weekend (beginning class in jewelry making)
Amateur Radio Technician Class
Hand-held plasma cutting
Not Far from the Tree — Building with Slabs
Baking 101: Pate a Choux, Churros
Book Arts Boot Camp
BARN spirit leads to enthusiasm, can-do attitudes, a bent for sharing and pride in work, which then produces extraordinary opportunities for learning. See a current calendar at bainbridgebarn.org and join the BARN in a guided tour on any Sunday from 1 to 3 p.m. But be careful — you may find it difficult to choose just one studio.