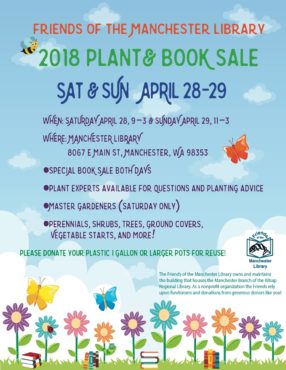 As the cornerstone of a healthy community, libraries are more than books. No one understands this more than the Friends of the Manchester Library, whose commitment to the residents of Manchester has spanned more than four decades.
The Annual Plant & Book Sale on April 28-29 is a celebration of community cooperation at its best. Each year, Manchester and surrounding area residents donate their time, energy, plants and books to the Friends to assist in fundraising.
The Friends, a nonprofit entity, owns and operates the building housing the library. The Port of Manchester provides the land on which the building sits, while Kitsap Regional Library provides the branch staff, books and all programming.
The Friends of the Manchester Library must raise approximately $30,000 annually to maintain and operate the building, not including capital expenditures — including the upcoming one for an anticipated minimum of $20,000, the cost to replace the roof of the building.
The variety of plants available at the sale never fails to delight and inspire gardeners, from novice to expert. Beautiful perennials, annuals, trees and shrubs; edible plants like herbs and tomatoes; ground covers; Pacific Northwest native varieties; plants for sun as well as shade — and the always-welcome deer-resistant plants. Experienced local gardeners volunteer throughout the two-day event to advise buyers and offer recommendations.
"Our plant sale is entirely donor and volunteer driven, both community and business," says Cherm Mercer-Gilbert, co-chair of the plant sale. "The variety of plants that we have each year varies based upon donations, and it is always fun to see what the 'plant of the year' for our sale will be in terms of what we have the most volume and/or variety of. Additionally, we are again thrilled to welcome members of the Master Gardeners program of Kitsap County who will be on site to assist consumers with any questions."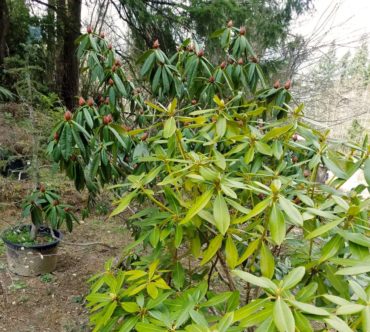 Knowing that no library fundraising affair would be complete without a book sale, this popular spring event offers an excellent selection of books. The special book sale, offered only a few times a year, features titles not usually available inside the Friends Store.
Like cooking and travel? Interested in history or suspense? The special sale has that and more. All book-sale and store inventory is from generous community members who donate their well-cared for titles for someone else to enjoy.
Mark your calendars so you don't miss out. Gardeners of all levels and backgrounds, and book lovers alike will find something to love for great prices to support a great cause.