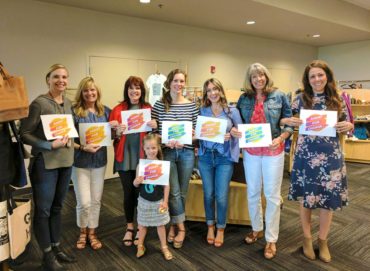 So you want to buy ethically this holiday season, but you're not sure how? Chapel Hill Presbyterian Church has you covered. On Nov. 18 and 19, the Gig Harbor church is hosting its annual Festival of Hope, a community-wide event dedicated to selling only fair-trade products and telling the stories of artisans from around the globe.
Why Fair Trade
Fair trade is an alternative way of doing business — one that builds equitable, long-term partnerships between consumers in North America and producers in developing regions. Choosing to buy fair-trade products is a great way to support a sustainable, ethically responsible future both for yourself and for people around the world.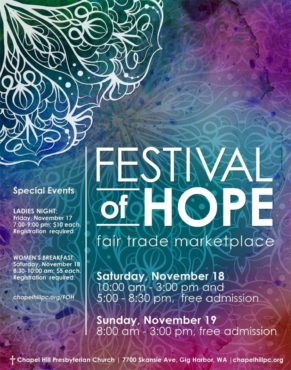 How to Buy Fair Trade
With so many choices in the stores, where do you start? Festival of Hope is a great place because everything available — from jewelry to chocolate to coffee to toys to décor — is fair-trade certified. Easy!
But say you're at your normal grocery store: What should you look for?
Desiree Jordan, Chapel Hill's Festival of Hope coordinator, says, "Look for the Fair Trade Federation logo." (It's a circle with four hands.)
Brands like Bear Naked, Love Crunch, Seattle's Best Coffee, Madhava, Theo Chocolate, Wholesome, Alter Eco and Numi frequently boast the fair-trade logo on their products and are available in many major grocery stores. Specialty grocery stores, like Whole Foods, Central Market, Town and Country, and Main & Vine, offer even wider selections of fair-trade goods.
You can even make it a game. Teach your kids to look for fair-trade logos while they shop wit you at the store.
Other fantastic fair trade finds include Costco flowers, Ben and Jerry's ice cream and the Patagonia brand. Target is even expanding its fair-trade offerings with products like Threshold's organic line, PACT brand men's apparel, Andalou skincare, and Equal Exchange chocolate. Other chain grocery and retail stores also offer fair-trade selections, as do many of the boutique retail shops around Kitsap Peninsula that sell everything from jewelry and apparel to home décor.
Buying ethically doesn't have to be a burden, and it is a powerful way to empower families, farmers, artisans and entrepreneurs around the world.