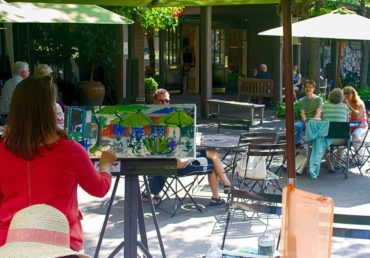 French painter Claude Monet was an accomplished early proponent. So was his compatriot August Renoir. Because French Impressionist painters were the ones who took the act of painting out of stuffy French drawing rooms and studios and into the great outdoors, the art of painting outside is called en plein air — French for in the open air.
By the mid-19th century, some schools of art were promoting the idea of working in natural light. Up until that time, it was more difficult. Artists created their own paints using ground color mixtures and linseed oil, saving them in bladders for use. With the 1841 invention of paint in tubes by portrait artist John Goffe Rand and of small folding easels, artists could more easily transport their art supplies outdoors.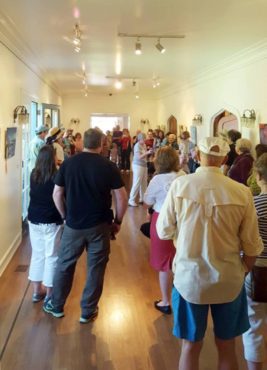 Plein air painting is enjoying a modern day revival with a hip new moniker — Paint Out — and the support of north end Kitsap arts organizations. Both Poulsbo and Bainbridge Island play host to an annual Paint Out event that encourages anyone, from professional artists to hopeful beginners, to go outside in their community to paint.
There's an added twist with Paint Out — artists have a designated amount of time to complete their painting from beginning to end and as it's plein air, they have to paint rain or shine.
This will be Poulsbo's second year sponsoring Paint Out Poulsbo. Based on the success of the inaugural event in 2016, organizers have expanded it to two days, Friday and Saturday, May 12 and 13. The event is sponsored by the Peninsula Music and Arts Society and money raised will support scholarships for the arts in Kitsap County.
There are two types of juried art competition at Poulsbo's Paint Out: The Plein Air Event and the 72 Hour Competition. Both require that artists begin and complete their paintings within a designated timeframe.
The Friday Plein Air Event at Poulsbo's Liberty Bay Waterfront Park has an eight-hour time limit. Artists must have their materials authenticated and stamped at Poulsbo's waterfront park pavilion beginning at 9:30 a.m. and have until 6 p.m. that day to complete the painting.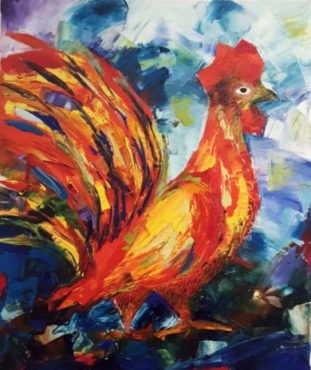 Artists competing in the 72 Hour Competition must have their materials authenticated and stamped at the Artist Edge stores in Silverdale or Poulsbo no earlier than May 10 at 9 a.m. and have until 10:30 a.m. on May 13 to turn in their work for judging.
All artwork for both competitions will be taken by the artists to The Manor Farm Inn on Poulsbo's Big Valley Road, where it will be hung to be judged on Saturday by a team of four of Poulsbo's professional artists: Carrie Goller, Derek Gundy, Robin Weiss and Leigh Knowles Metteer.
On Saturday, the celebration of the arts moves to The Manor Farm Inn with a day of musical entertainment (celebrating the music in The Peninsula Music and Arts Society moniker) and children's art activities. Cash prizes for both events in the professional, amateur, student and children's categories will be awarded at an artists reception at 5 p.m.
Registration and other information about Paint Out Poulsbo and The Peninsula Music and Art Society can be found at themusicandart.com.
Paint Out Winslow, sponsored by Bainbridge Arts and Crafts, is now in its fourth year. Scheduled for Aug. 19-20 in downtown Winslow, the plein air event also has a time limit for artists. In prior years, artists began on Saturday morning and had to be finished by early Sunday afternoon, with judging and an awards ceremony to follow. Complete details are not yet available for the 2017 event but will be posted at Bainbridge Arts and Craft's website.
Whether you consider yourself a wannabe artist or an appreciator of the arts, watching plein air painters at work is a treat. Catch them in action in Poulsbo on May 12 and Winslow in mid- August. They generally like to chat about their work, but remember, it's a timed event and they're on the clock to get their painting finished.