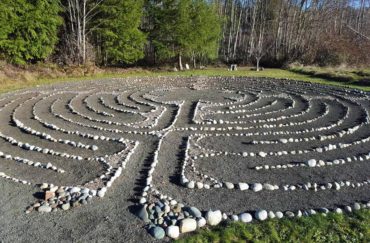 Overlooking a bluff with a view of Puget Sound, Bainbridge Halls Hill Labyrinth and its Community Tibetan Prayer Wheel is a peace-filled oasis of Asian-themed landscaping complementing an artist-built labyrinth and hand-cast bronze prayer wheel. Not easy to find if you don't know the island's backroads, it's one of six labyrinths accessible to the public on Bainbridge Island and one of nine public and semi-public labyrinths in Kitsap County.
A labyrinth is a walking path and not a maze; a specific circular pattern designed for contemplation that leads the walker to the center. I set out to walk them all and, in the process, discovered the unique qualities of each.
It wasn't surprising to find that many of them are on church property though labyrinths are not part of any specific religion and throughout their history have served a variety of purposes.
The first recorded labyrinth is from the 5th century in Egypt in the writings of Greek philosopher Herodotus. In the Roman Empire, labyrinths were embedded above doorways or on streets as a sign of strength.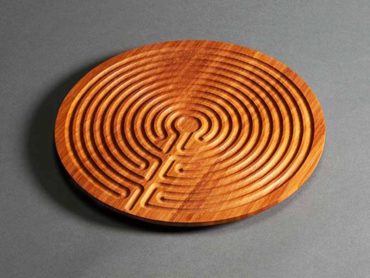 In Northern Europe, Nordic fishermen walked a labyrinth as a form of protection before setting out in their boats. By the Middle Ages, the walking paths were intended to be used as a meditative and spiritual practice.
The labyrinth at Grace Episcopal Church on East Day Road, Bainbridge, is one of two walking meditative features on the church property. The architecturally stunning church is located down a long driveway and the labyrinth is on a small, north rise above the parking lot.
Made of gravel and lined with stones, it was modeled after the one at the Chartres Cathedral in France in the Chartres pattern of two circuitous paths to the center. Beyond the labyrinth is a meditation trail that winds through the trees.
Rolling Bay Presbyterian Church on Sunrise Drive, Bainbridge, also has a modified Chartres path in a nine-circuit pattern.
Bethany Lutheran Church on Finch Road, Bainbridge, maintains a seven-circuit stone and gravel medieval labyrinth on the southwest part of their property. Since the church also hosts a large park-and-ride parking lot, perhaps the labyrinth provides stress reduction for the island's Seattle-bound commuter population.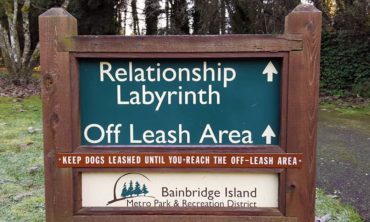 The Eagle Harbor Congregational Church labyrinth in downtown Winslow was nearly indistinguishable from its surroundings when I visited. Covered with needles, the seven-circuit brick-lined labyrinth is located just off the parking lot — a busy corner in downtown Winslow.
Eagledale Park on Bainbridge has a large, well-signed hilltop labyrinth with a view of Mount. Rainier. The park was once part of a Cold War Nike missile complex, which seems like an incongruous site for meditative labyrinth until you realize that all of Kitsap County's former missile site infrastructure has been converted to schools, parks and gathering places.
Bainbridge Island isn't the only place in the area that lays claim to meditative walking paths. It turns out there are two more — one in Kingston and one in Silverdale, both of them on welcoming church property.
In Kingston, the United Methodist Church on Shorty Campbell Road has a small, three-circuit labyrinth behind the church. While it is open to the public, the church asks that it not be visited on Sunday mornings when services are in progress.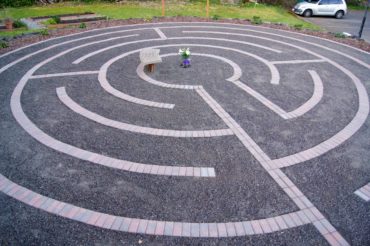 Silverdale Lutheran Church on Ridgepoint Drive has a brick-and-concrete labyrinth, its walking path leading to a bench in the center, often adorned with a vase of flowers.
The south end of the county lends its own unique contributions to the labyrinth culture. A Port Orchard couple who have a semi-public labyrinth are part of a state and national network of labyrinth events and they also consult on building labyrinths.
For anyone not wanting to brave the elements of an outdoor labyrinth, Brian Watson, a Bremerton artist and wood sculptor makes beautiful, wooden finger labyrinths.