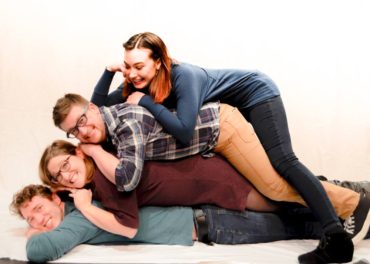 Yes, that's really the name of the show!
Save the dates for a thoroughly unique and comical postmodern homage to the grand tradition of backstage musicals. You won't want to miss this outrageously funny love letter to musical theatre. [title of show] is a hidden jewel that is sure to enthrall audience members.
In [title of show], struggling writers Jeff and Hunter hear about a new musical theatre festival. With nothing to lose, and the submission deadline a mere three weeks away, the pair decides to try to create something new with the help of their friends.
With the cast in place, Jeff and Hunter begin a conversation about what to write about. Eventually, Jeff suggests they write about what to write about. They make a pact to write up until the festival's deadline and dream about the show changing their lives.
The name of the play is taken from the space on the festival's application form which asks for the [title of show]. It follows Hunter and Jeff and their friends on their journey through the gauntlet of creative self-expression.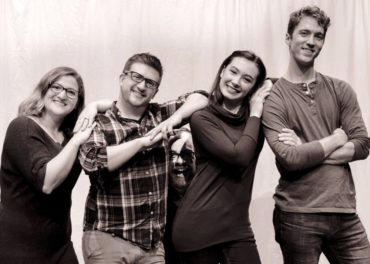 In the span of 90 minutes, they write and perform their show at the festival, while learning lessons about themselves as people, friends and artists along the way. Featuring music and lyrics by Jeff Bowen and book by Hunter Bell, the musical received a Tony Award nomination for Best Book of a Musical in 2009.
Director Philip Lacey and Musical Director Joel Kurzynski make their BPA debut with this production and lead a tiny cast featuring two newcomers — Garrett Dill (Jeff) and Adam Minton (Hunter) – plus two BPA favorites, Jasmine Joshua (Susan) and Myriah Riedel (Heidi).
Produced by special arrangement with Rogers and Hammerstein, [title of show] appears at BPA Feb. 10-19, with evening shows Fridays and Saturdays at 7:30 p.m. and Sunday matinees at 3 p.m.
The run includes a pay-what-you-can preview on Thursday, Feb. 9, at 7:30 p.m., and the opening night reception is Friday, Feb. 10, at 6:30 p.m.
Tickets, $29 for adults, $24 for seniors, and $21 for students, youth, military and teachers, may be purchased online at www.bainbridgeperformingarts.org, by phone at 206.842.8569 or in person at BPA, 200 Madison Avenue North, Bainbridge Island.
BPA box office hours are 1 to 4 p.m. Wednesday through Friday, and one hour prior to each performance.
Find out more about BPA at www.bainbridgeperformingarts.org on Facebook, LinkedIn and Twitter.