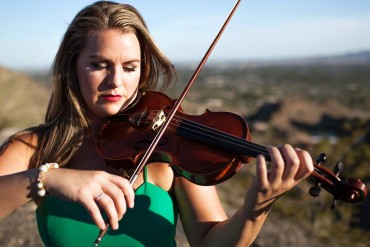 One of the great aspects of an orchestra is the chameleon role it plays in music. One night an orchestra might be performing the glorious symphonies of Mozart, Brahms or Stravinsky. And on another, it might be providing the music for an opera, ballet, moving picture or musical revue.
Music fuses with other artistic genres to create unique experiences for audiences. Imagine what it would be like to watch films like "Jaws," "Ben Hur" or "Star Wars" without music. How many moments can we think of in which the music is central to the emotion or event taking place on the screen or stage?
On April 15, 16 and 17, I invite you to join the Bainbridge Symphony Orchestra as we bring live to the concert stage some of the greatest music written for movies, musicals and video games.
For these performances, we will present music from "Star Wars," "How to Train Your Dragon," "Pirates of the Caribbean" and more. I'm especially enthusiastic about the violinist Brittany Boulding of the Seattle Symphony Orchestra joining us to perform John Williams' Three Pieces for Violin and Orchestra from "Schindler's List."
This film is about Oskar Schindler, a German businessman who is recognized for saving over a thousand mostly Polish-Jewish men, women and children from the Holocaust by employing them in his factories. The music for the film is haunting but also stunningly beautiful. In this film, the music often takes the place of dialogue, when words can't articulate the horror taking place. Ms. Boulding's performance of the music will be absolutely captivating.
Also on the program is music from the Pulitzer- and Tony-award-winning musical "South Pacific." For gaming fans, the symphony will also perform music from Halo, Bounty Hunter and Kingdom Hearts.
This concert is perfect for the whole family. If you have never heard a live orchestra, then this is a great opportunity. It can be a transformative experience, hearing familiar music played live. Who knows, maybe you'll want to pick up an instrument yourself! Either way, join us for a great evening celebrating dramatic music from the stage and screen.
April 15 – 17: Movie Music LIVE!
Enjoy a whole evening of music from film, TV, the stage and video games. From swashbuckling "Pirates of the Caribbean" to the epic "How to Train Your Dragon," this concert will have you moving in your seat. Also on the program are John Williams' haunting Three Pieces for Violin and Orchestra from "Schindler's List," plus music from Halo, Bounty Hunter and the classic musical "South Pacific."
The program features acclaimed violinist Brittany Boulding. On Sunday only, members of the Bainbridge Island Youth Orchestra join the BSO for a side-by-side performance.
Performances are Friday and Saturday at 7:30 p.m. and Sunday at 3 p.m. Tickets are $19 for adults and $16 for seniors, students, military and teachers; each youth receives free admission when accompanied by a paying adult. More info at www.bainbridgeperformingarts.org.