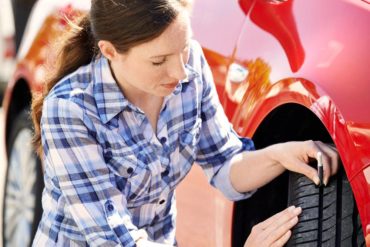 For many people, summer means setting out on a road trip in search of bucket-list-worthy excitement or a relaxing vacation.
Whether you're going down the road to visit family or across the country to see a national monument, it is important to prepare your vehicle — and its tires — before you pull out of the driveway.
These five safety tips can help get your family ready to hit the road this summer:
Check your tread — A tire's tread depth can determine a vehicle's safe stopping distance. You can check your tread depth by sticking a penny upside-down in a tread groove. If you can see President Lincoln's head, it's time to replace your tires.
Ensure proper tire pressure — Low tire pressure can lead to poor handling and gas mileage, excessive wear and overloading. Drivers should check their tire pressure at least once a month, and especially before any long trip. Use a dependable air gauge or stop by an automotive store like Discount Tire or America's Tire to take advantage of complimentary air checks.
Rotate often — Tires should be rotated at least every 6,000 miles or earlier if irregular or uneven wear develops.
Inspect your trunk — Some new vehicles no longer come equipped with a spare tire, opting instead for tire-inflation kits that feature puncture coating sealants and air compressors, or even run-flat tires. Check your trunk to see what your vehicle contains and make sure you have a roadside assistance plan should the need arise.
Don't overload — The combination of heat and overloading a vehicle, which can be common during summer travel, is one of the most dangerous conditions for a vehicle's tires, as overloaded tires can overheat and possibly fail.
When it comes to summer driving safety, it can be imperative to check your tires early and often. Knowing the condition of your tires can keep your family safe and your vehicle in quality condition.
"It is important that drivers know how to check and maintain their tires and recognize the warning signs of when to replace them, especially during the hotter months," said Tom Williams, senior vice president at Discount Tire. "Keeping customers and their families safe is our No. 1 priority each summer."
To learn more about tire safety before a summer road trip, or to schedule an appointment for a tire safety check, visit tires.com.