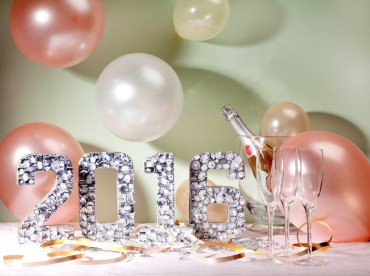 Bring in the New Year with a little extra glam. These sequined 2016 numbers make a great centerpiece, mantel decoration or addition to your party decorations.
Supplies:
Papier-mâché 2016 numbers
Silver spray paint
Sequins in a variety of sizes and shapes
Directions:
Spray paint the papier-mâché numbers silver. Let dry.
Begin arranging the first layer of sequins to the top of the numbers. Vary the sizes and shapes of the sequins on the layer.
After you have finished arranging the sequins in a pattern, glue them to the papier-mâché number with Krazy Glue. Let dry.
Repeat until the numbers have the desired number of sequins.