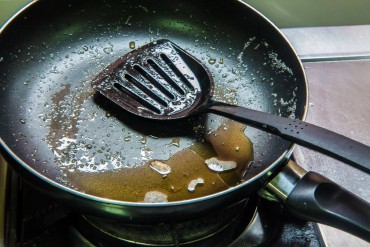 Fats, oils and grease from kitchens can impact sewer systems in a big way. When poured down a drain inside the house, these items can quickly damage or clog sewage pipes.
Whether your house is on a septic system or connected to a public sewer system, items like fats, oils and grease can impact your pipes in a negative way. Never pour these items down your kitchen sink!
This holiday season, you can recycle used cooking oil at no cost at locations listed below. When you recycle fats, oils and grease instead of pouring them down drains or throwing them into the garbage, you are helping make biodiesel.
Studies show that biodiesel outperforms gasoline, ethanol and conventional diesel in reducing carbon dioxide emissions and in overall fuel-efficiency. Biodiesel has also been proven to be much less toxic than diesel fuel, and is readily biodegradable.
This makes it safer for distribution, use and storage. Recycling fats into a biodiesel product enhances local economies and decreases the nation's dependence on foreign oils.
Recycling Tips
Transport used cooking oils and fats in a secure container.
Avoid spills. Pour slowly and with care into collection tank.
Leave nothing behind. Take your containers with you to rinse/recycle at home.
Do not contaminate with bones, food particles or motor oil.
Make sure you empty your oil into the cooking oil container, not in the used motor oil container.
Click here for a short two-minute tutor on recycling used cooking oil.
Where to Recycle
Kitsap County Public Works contracts with a local biodiesel firm for a recycling option for residents.
Here's where you can recycle your used cooking oil for free, year-round:
Olympic View Transfer Station
9300 SW Barney White Road, Bremerton • Hours: 8 a.m. to 5 p.m. daily
Hansville Recycling and Garbage Facility
7791 NE Ecology Road, Kingston • Hours: 8 a.m. to 3:30 p.m., Wednesday through Monday
Poulsbo Recycle Center
21868 NW Viking Way, Poulsbo • Hours: 8 a.m. to 3:30 p.m., Tuesday through Saturday
Call Kitsap 1 (360.337.5777) for facility closures during the holidays.