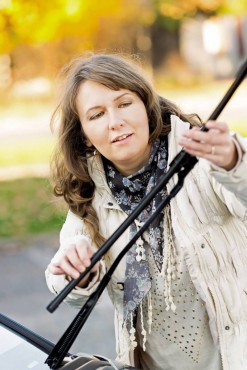 Conducting routine maintenance on your vehicle is necessary to maintain optimal performance and prevent costly repairs. As colder weather approaches, and with it the potential for treacherous road conditions, giving certain areas of your car special attention can also protect your safety.
"Getting your vehicle ready for winter while temperatures are still mild is a proactive approach to preventive maintenance that helps ensure safety and reliability when severe winter weather strikes," said Rich White, executive director of Car Care Council.
The following tips will help you learn how to care for the systems and features most likely to affect your safety as winter approaches.
Brakes
The brake system is a car's most important safety system. A faulty brake system may impede your ability to safely slow your vehicle in inclement driving conditions or avoid an accident.
Brakes sustain normal wear and eventually need to be replaced for both performance and safety reasons. Ignoring routine maintenance and letting brake pads wear too thin can lead to costly rotor and drum replacement, in addition to compromising your ability to execute a sudden stop safely.
Have your complete brake system thoroughly inspected annually and replace equipment as needed.
If your car is pulling to the left or right, or if you hear odd noises when you apply the brakes, you should have your brakes inspected. Other warning signs include an illuminated brake warning light, brake grabbing, low pedal feel, vibration, hard pedal feel and squealing.
Don't overlook the parking brake, which also may require adjustment or replacement parts.
Wheels and Tires
When roads become wet or icy, the right wheels and tires can help ensure you have the traction you need to maintain control. Maintaining tire balance and wheel alignment reduces tire wear and improves handling and fuel economy.
Tire replacement is necessary if the tread depth is below the minimum legal requirement, or if the sidewalls are severely cracked or punctured.
In addition, normal wear and road conditions can take their toll on your car's steering and suspension system and disrupt the alignment, which in turn reduces optimum handling.
Use the "penny test" to check your tread; if you see Lincoln's head above the tread, you are ready for new tires.
Have your car's alignment checked at least annually or at the first sign of improper handling or uneven wear.
Check inflation pressure at least once a month (including the spare) and once per week in the winter.
Rotate and balance tires every 6,000 miles to avoid accelerated wear on shock absorbers and struts.
Battery
Your battery should be securely mounted, with connections clean, tight and corrosion-free. If the battery is three years old or more, it should be tested and replaced if necessary.
Headlights
Headlights play a major role in safe driving; the chances for accidents increase if you can't see or be seen. The lighting system provides nighttime visibility, signals and alerts other drivers, and supplies light for viewing instruments and the vehicle's interior.
If there is any doubt about whether or not your headlights should be on, turn them on.
Keep headlights, tail lights and signal lights clean. External dirt and debris can dim operational lights, making it difficult to be seen by others.
Make sure your headlights are properly aimed. If they aren't, headlights blind other drivers and reduce your ability to see the road.
Don't overdrive your headlights. You should be able to stop inside the illuminated area; otherwise you are creating a blind crash area in front of your vehicle.
Replace dimming, rapidly blinking or non-functioning lights immediately, but check first to ensure a loose or faulty fuse isn't the source of the problem.
Windshield Wipers
The wiper system keeps excessive water, snow and dirt from building up on the windshield, maintaining clear visibility. Many factors can accelerate the replacement of wipers, including operating conditions, frequency of use, material and type of wipers and weather.
In general, replace blades every six months or when cracked, cut, torn, streaking or chattering.
Be aware that some vehicles have two washer fluid reservoirs. Check levels monthly and use washer fluid only; do not use water.
Maintenance Checklist
Whether you do it yourself or take your car to a professional service technician, the Car Care Council recommends these basic maintenance procedures to keep your vehicle operating at its best:
Check all fluids, including engine oil, power steering, brake and transmission, as well as windshield washer solvent and antifreeze/coolant.
Check the hoses and belts for signs of damage or wear.
Check the battery and replace if necessary.
Check the brake system annually and have the brake linings, rotors and drums inspected at each oil change.
Inspect the exhaust system for leaks, damage and broken supports or hangers if there is an unusual noise.
Check the heating, ventilating and air conditioning system, as proper heating and cooling performance is critical for interior comfort and for safety reasons such as defrosting.
Inspect the steering and suspension system annually, including shock absorbers, struts and chassis parts such as ball joints, tie rod ends and other related components.
Check the tires, including tire pressure and tread. Uneven wear indicates a need for wheel alignment. Tires should also be checked for bulges and bald spots.
Check the wipers and lighting, including both interior and exterior lighting, and replace worn wiper blades so you can see clearly when driving during precipitation.
Learn about the benefits of regular vehicle care, maintenance and repair, and order a free copy of the council's Car Care Guide at www.carcare.org.