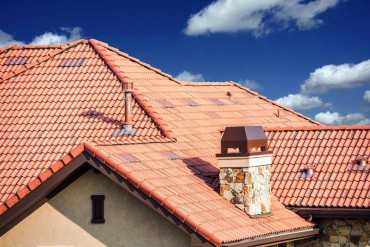 Whether you're replacing an old roof or building a new home, your choice of roofing materials has a huge impact on the look of your home and on your wallet. Choices can be influenced by amount of visible roof, pitch or architectural style.
First, consider the house and its style. Here are some of the questions to ask yourself:
Is there a lot of roof?
Is it very visible upon approach? For instance, do you drive downhill to see the house, thereby getting a major roof view as you arrive?
Is the roof high off the ground and not as visible?
Is the home of a particular style, such as log or Spanish, which might dictate the look of the roof material? If the roof is flat or a very low pitch, it may need a particular material.
Then there are concerns about maintenance, fire safety and warranty.
Lastly, there is color. In most cases, you want to choose a neutral color that will go with a variety of paint choices since roofs have such long life spans.
Here are a few options
Asphalt composition shingles — The most common and typically least expensive, this material gives a good look at a reasonable cost. You can expect 15 to 20 year life from most, though asphalt composition shingles vary in weights, colors, durability, style and designs.
They can be vulnerable to wind and ice damage, and most are rated for certain maximum wind speeds. In the Northwest, they often need moss or mildew treatment, though some come with built-in moss prevention.
Asphalt architectural composition shingles — An upgrade to "comp" shingles, they are made from layers that are bonded together and typically last 30 to 50 years. Created with a shadow line, these shingles have a more textural or 3D look.
Easily the most popular choice because of their good looks and durability, along with better resistance to wind and fire. Asphalt architectural composition shingles are a great choice for a home with a lot of visible roof but may need some moss and mildew treatment.
Tile roof — A more costly option, a tile roof offers great durability and good looks. It is low-maintenance and offers a 40- to 50-year lifespan. It looks great on a variety of styles of architecture.
You have to be careful with tile when you walk on it, and a roof must be properly framed to accommodate the heavier material. Unless you previously had a tile roof, you may not to be able to do a re-roof with tile because of the additional weight.
Metal — The most maintenance-free of all, this options is also the longest lasting, with 50- to 75-year life and excellent fire resistance.
Metal roofs work on everything from log homes to modern styles, and come in a variety of looks, with standing seam being the most popular. It's also easily the most expensive, with prices at least double the cost of an asphalt architectural shingle roof, and going up from there.
Wood shingles and shakes — While popular in the past, you see wood shingles less and less, often because they have a high price, short life span and limited, if any, warranty. They also required the highest maintenance, but the tradeoff is their beautiful appearance.
Membrane systems — This single-ply roofing is easy to apply and durable, and has excellent resistance to wind. It is also lightweight and has incomparable leak protection.
Membrane systems are excellent for flat roofs or those with a 4/12 pitch or lower. While not the prettiest, it is low-maintenance and long-lasting, about 25 to 30 years with a reasonable cost. Flat roofs often had "hot mop" or asphalt and gravel, but membrane systems are replacing them quickly.
A quick trip to the roofing supplier will provide lots of large-scale samples and styles for you to consider, along with warranty and technical information to help you pick the perfect roof.