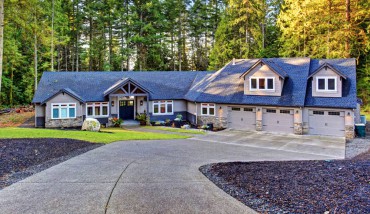 Our driveways get a lot of use and not much attention. You maintain your yard and home, but when was the last time you showed your driveway some love?
A few simple maintenance tips will keep this part of your home in top condition and help increase your curb appeal.
Concrete and asphalt driveways are the most common hard surface so let's look at how to keep them in shape. They are costly to replace, so occasional routine maintenance will increase the longevity of your driveway and save you money over time.
Asphalt driveways are subject to more damage that concrete, and heavy truck or travel trailers and the like can cause issues over time.
The first step is a good pressure washing to rid dirt and debris and get the surface clean. If you have stubborn oil stains or other stains, a pretreatment with a spot cleaner could be in order, and sometime with a scrub brush to help loosen the stain may be needed.
After the driveway has been cleaned and had time to dry thoroughly, inspect any areas that need patching or that have cracks or starting to crack. Filling these now with an asphalt emulsion will prevent larger gaps down the road, or weeds growing in them and further undermining the area.
Kill and remove any weeds and fil the cracks. Any larger areas may require patching by a professional, and is well worth the expense over time.
Next, apply an asphalt coating over the entire driveway. Be sure to rope off the area and let the neighbors know so they can keep any renegade dogs indoors for a bit.
Once the emulsion is applied, you can normally walk on it within two hours, but driving on it needs to wait 24 hours. Add some additional time to that for heavier vehicles. This will leave you with an asphalt driveway that looks brank new!
For concrete driveways, start with the same steps: Pressure wash, spot-treat stains, dry and inspect. If your driveway was poured in sections, it is possible that you will have some areas that have sunk over time.
These can be re-floated to make them level with the other pieces by professional concrete people. It's great for walkways, steps or driveways.
Next, check for cracks, which can be filled with a concrete filler or caulking. If your concrete is discolored or you want a different look, consider a concrete stain.
You will need to acid-wash the concrete first, then apply the stain — one or two coats depending on the desired color and look. Let it dry and cure according to the directions.
Finally, choose a sealer to protect the finish, from a variety of sheens including matte, satin or wet look.
With either of these surfaces, you can DIY this project or hire a professional. Either way, your driveway will look brand new and create welcoming curb appeal to you home and protect your investment.