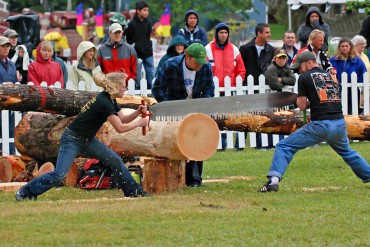 The Old Mill Days Americana festival will return for its 10th year to the picturesque town of Port Gamble on July 3-5. The weekend will offer a new entertaining lumberjack show, chainsaw carving competitions, ice sculptures, entertainment, live music, carnival rides, and food and craft vendors.
A fireworks show on the 4th will feature the largest shells fired on land in Kitsap County, according to organizers. On Sunday, check out the classic car show.
You can also watch or compete in the Kitsap's Toughest Timberman Competition. Both men's and women's divisions will compete for cash and one-of-a-kind trophies.
Don't miss being a part of this exciting community event. Organizers hope to begin a new local family tradition and expect to have about 10,000 people out to enjoy this holiday.
Northwest Chainsaw Carving Competition
Promoter Steve Backus has organized the world's largest chainsaw contest for 19 years, winning first in many and placing in the top 10 more than a hundred times.
As the Pemco Insurance Roadside Chainsaw Carver Profile No. 16, Backus has brought chainsaw carving into the mainstream public. This year, competitors from across North America will be in competition for the title of the Chainsaw Champion Race.
Americana will feature some of the top carvers to compete for prizes in the annual Totem Pole Chainsaw Carving Competition.
The chainsaw carvers have also been seen on the Spike Television show Framework 2015, USA Networks Summer Camp 2014 and on Discovery Saw Dogs 2013.
Lumberjack Show (Friday and Saturday)
Contestants from throughout the Pacific Northwest and British Columbia will wield axes, crosscut saws and power saws in events such as the springboard chop, axe throw, single buck and hot saws, just to name a few.
You will be impressed as they ascend the spar poles for tree topping and speed climbing. Especially popular is the dangerous log rolling event. The precision and skill required for these events is sure to leave a lasting impression in the minds of the whole family.
For more about the lumberjack show, go to westcoastlumberjacks.com.