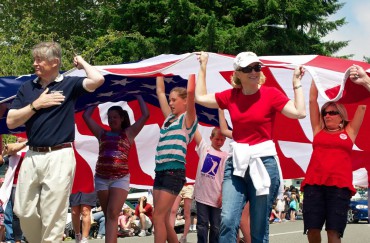 For years on the Fourth of July, people have lined Main Street in Kingston with lawn chairs and blankets, and kids have waited with bags ready for the candy to rain down. Even the Kingston ferry pauses out of respect.
People who want to be a part of it all pull this show together in garages and driveways. Last year, there was a boat dressed in a pig costume carrying a commodore from the Kingston Cove Yacht Club. The parade has also had a motorcycle club, Sweetwater Septic truck, and Western Diva entry with a goat in a tutu.
This parade is, at the same time, totally unique and totally true Americana.
This year, there will have some new and some old entries, but it will still be far more about fun than about commercialism.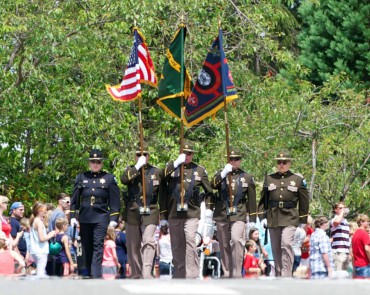 Sure, the Sweetwater Septic people want us to call on them in our hour of need, but they want even more to be out here with their people, throwing candy to the kids and driving down Main Street waving at friends, whether they live in Kingston or not.
The sense of community is so strong, you can almost see it shimmering in the air.
On the Fourth of July in Kingston, it's about patriotism, the kids, the parade and the music. Oh, and its about the pancakes!
The day begins at Kingston Cove Yacht Club with a Pancake Breakfast at 8 a.m. Eat inside or on the deck overlooking the marina and Apple Tree Cove. Families are welcome and the food is wonderful!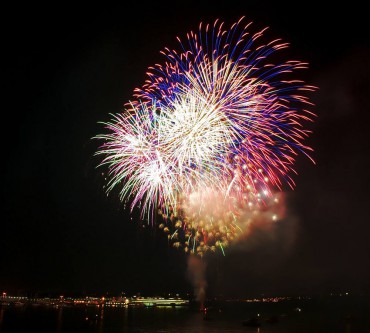 Eat as late as 10:30 a.m., or come early then move on to the Fun Run at 9 on Barber Cutoff Road.
After breakfast, you can linger at the Farmers Market spread out on the lawn next to the docks or take the kids to Tiny Town at Kola Kole Park.
The parade begins at noon. Afterwards, there will be a hot dog roast at the yacht club, a beer garden on the lawn at Mike Wallace Park, and the Great Ball Race and Kingston Coaster Games on Central Avenue.
Live music starts at 4:15 p.m. with artists like Waiting on Wendy, Knucklehead and Unified Culture.
The day ends with a famously spectacular fireworks display at dusk over the water.
Bring a lawn chair and savor the experience close up.
See kingston4thofjuly.com for a complete schedule.