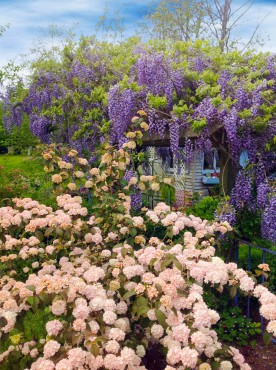 On Sunday, June 28, the Garden Conservancy's nationwide Open Days Program features six private gardens open to the public for one day only in Indianola, Poulsbo and on Bainbridge Island.
Admission to each garden is $7 and benefits the Garden Conservancy. Open Days take place rain or shine, and no reservations are required.
Call (888) 842-2442, or visit www.opendaysprogram.org for more information. All gardens will be open from 10 a.m. to 4 p.m. One location, noted below, will extend its Open Day until 5 p.m.
Bainbridge Island
The Johnson/Vigil Garden (5456 Diamond Place NE) has been cultivated since 2003 and boasts secluded private areas offering a range native plants and vantage points. The garden backs up to the Gazzam Reserve, with towering pines serving as a dramatic backdrop.
A heart-shaped vegetable plot is complemented by fruit trees, vines and berries; and natural light filters through the space, highlighting the plants for varying effects throughout the day.
The third-of-an-acre Skyler Garden (9734 Manitou Place) is surrounded by waves of cedar pickets at the end of a quiet cul-de-sac. Nestled among tall firs, vine maples, rhododendrons, azaleas, viburnum and magnolias, the gardens have been in progress for over 30 years.
Pathways lead to different garden rooms, where endless groupings of hosta, hellebores, hebes, barberries, spirea, farfugeum and euphorbias are featured along with hardscape, water features and more than 100 varieties of ferns for year-round interest.
The Cheadle Garden (5369 Taylor Avenue NE) sits atop 2 acres at the south end of the island. The bungalow garden has developed over the past 38 years, juxtaposing the structure of clipped boxwoods and yew hedges with an organic flow of flagstone, brick, and stepping-stones.
A parklike lawn setting, mature firs, arbors, statues and a pond graced by weeping Katsura create visual points of interest.
At 8 acres, the Folse Garden (4895 Rose Avenue) is a large island property with several distinct gardens integrated throughout. Visitors will enjoy a combination of enclosed spaces and others integrated into surrounding field and forest.
Sculptures and artwork are scattered among uncommon plants and exotic trees, demonstrating the range of cultivars possible in the northwest climate. Folse Garden will be open until 5 p.m.
Indianola
Windcliff (10345 NE Shore Drive) is the home and garden of naturalist and plantsman Dan Hinkley and Robert Jones. Sitting atop a south-facing high bluff overlooking Puget Sound, the garden is plant driven, showcasing two decades of Hinkley's collection work.
South of the house, which was designed by Jones, is a naturalistic 2-acre site of grasses, perennials, shrubs and small trees. An experimental meadow, greenhouse and potager are also found on the 6-1/2-acre property. Plants will be for sale from the small adjoining nursery.
Poulsbo
The Jeanne Simmons Garden (7211 NE Beach Avenue) sits aside Miller Bay. The garden is a scant 1-acre space surrounding a century-old house barged to the location from West Seattle.
The formal entry garden welcomes with boxwood-lined brick paths and arbors. Winding paths traverse mixed borders of small trees, shrubs, evergreens, perennials and bulbs. Two small fish ponds, seating areas and classic plantings of iris, peonies, hemerocallis and lilies are found along with established varieties of hydrangea, viburnum, rhododendron, barberries and Japanese maples.
A sunny, bay-side garden includes grasses, heathers, roses, espaliered apple trees, raspberries and blueberries.
Open Days Program
The Open Days Program was created in 1995 as a means of introducing the public to gardening, providing easy access to outstanding examples of design and horticultural practice, and proving that exceptional American gardens are still being created.
The Open Days Program is America's only national private-garden-visiting program and is made possible by the work of hundreds of volunteers nationwide.
For information and a complete schedule of Open Days, visit the Garden Conservancy online at www.opendays.org.