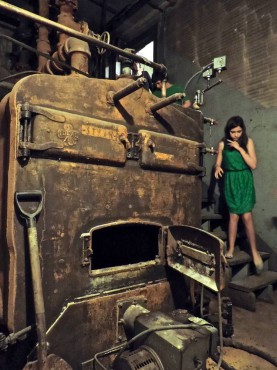 It's not an unusual sight to see filmmakers in Bremerton. The old, haunting downtown alleys are captivating visuals, along with sidewalks that partner with the old, commercial storefronts, many vacant for years.
It has been 24 years since I opened an art gallery at the corner of 4th Street and Pacific Avenue in Bremerton. Back in those early '90s, when Bremerton was dubbed "most livable city," I recall an East Coast reporter describing Bremerton as appearing to be like a movie set, followed by "a Stephan Spielberg movie set."
I was there, and it was strange. Downtown was cold, empty and so gray, it felt like a black-and-white '50s B-movie.
One day, I heard sobbing coming from an empty store entry. "Are you alright?" I asked the three young folks huddled on the ground. They looked up, smiled and told me they were rehearsing.
One day while looking out the gallery door, I was frightened to see four white skeleton-face characters in dark costumes jumping around, but with closer look saw the film crew. That was a bit shocking, but most filming is low key, like a few months ago sidestepping actors performing in my alley and on to the sidewalk.
Shortly after that, another production company was considering my Washington Avenue house for a particular scene. Over the years, I'm guessing I have come across several dozen film crews on the downtown streets.
Not long ago, I was on 4th Street filming for one of my Bremerton documentaries and came across a crew at a scene in front of the old, empty Roxy Theater on 4th Street. They let me film them filming.
Later, producer and actor Launa Sorensen visited me in my gallery. I showed her around the 1,400-square-foot building with the sub-basement boiler room.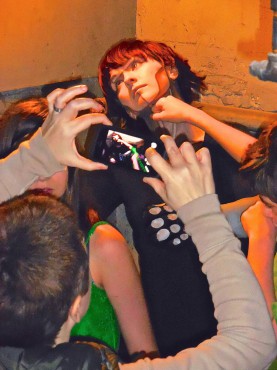 Months later, Launa took me up on my offer, as she was the location scout for a new Blue Forge Productions project requiring a scary place, for a film written and directed by Jennifer DiMarco titled "Rock Paper Knife."
One scene location would be the boiler room, still holding an obsolete, massive boiler installed in 1922 that once fed steam lines outside and serviced steam to other buildings.
Blue Forge Productions out of Port Orchard makes web series, television shows and both live-action and animated films, most recently a feature film drama "Ghost Noir." Also in the works are a horror film, "Those Who Remain," and a television drama, "The Laurels."
"Rock, Paper, Knife" is a living comic book that marries still images with animated segments. It follows the story of Brother and Sister as they travel through an alternate world of nightmares to find their way home.
The crew and cast arrived on time, bright and early Saturday morning — the staring roles of Brother and Sister were being played by Faith DiMarco and Maxwell DiMarco, while Launa Sorensen was playing a cyborg and Chelyn Ocholik was a phantom.
Director Jennifer DiMarco had only seen photos of the boiler room. She was excited to discover that the dimly-lit, high-ceiling room with spider webs and smell of ancient rust was even creepier than she expected.
The low wall light provided eerie ceiling and wall shadows from the piping that seemed to flail from the boiler. The old coal shovel rested by the open furnace door that exposed a black passage to the once heaving guts.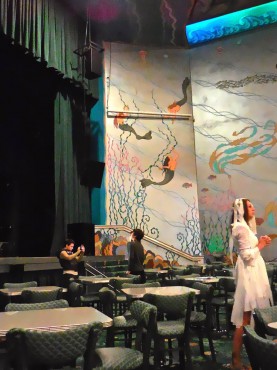 Jennifer directed short scenes as Brother and Sister dealt with the presence of an intruding cyborg and a phantom. There was hardly enough room between the walls and piping to swing the long silver saber.
I was impressed with the professionalism of the actors and the director's passion. A few of the scenes were reshot, but most were smooth sailing, despite the cramped quarters.
Maxwell didn't like the spider webs, and I assured Faith that there were no rats. The lighting was dim and yellowish, but the dark shadows were crisp and foreboding. Everyone seemed delighted with the results, but probably anxious to leave the creepy boiler room that time had forgot.
Next filming for "Rock Paper Knife" was across the street in the Admiral Theater. I was invited to follow. The mood was different but still eerie, as entities created havoc on Brother and Sister trying to make their way back home from an alternate world of nightmares.
Launa helped Chelyn with a white costume of flowing strips of cloth that emulated flight or dream-like motion. One of the scenes was directly against the Admiral Theater decorative mermaid wall and another was the white phantom leaning over the mezzanine rail.
Then Brother and Sister were included in the following scenes. Because filming covered a sweep of the performance facility, we were to far away to hear the dialog.
To learn more about "Rock Paper Knife," go to YouTube or contact Jennifer DiMarco at blueforgeproductions [at] gmail [dot] com.
It is understandable why filmmakers are attracted to Bremerton. It is a city making a comeback, yet the quirky old is still present, along with creative features like the Admiral Theater, world-class fountains, waterfront attractions and impressive Navy ships.