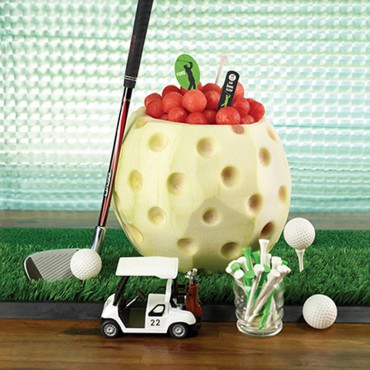 This year for Father's Day, skip the tacky tie and give dad something he truly wants — quality time with the kids who gave him such an honorable title. Plan an intimate family gathering with all his favorite foods and a few special touches that reflect his other passions in life, such as golf.
Let Dad savor some grilled goodness (and a healthy dose of antioxidants) with colorful fruit and veggie kabobs. Healthy, hydrating watermelon is the star ingredient of these colorful skewers, which also include marinated chunks of pork.
Add a low-calorie, fat-free side by serving watermelon balls in a fun, golf-ball-shaped vessel carved from a watermelon rind.
---
Watermelon Preparation
Wash watermelon under cool running water and pat dry.
On cutting board, place watermelon on side and cut off 1/4-inch to 1/2-inch from stem end, being careful not to cut too deep into white part of rind. This will provide sturdy base.
Using paring knife, cut a 3- to 4-inch round circle in top of watermelon.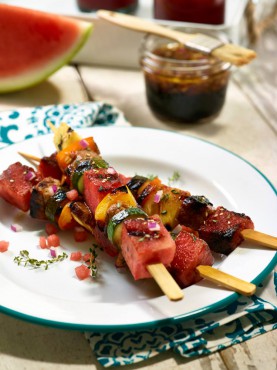 Use melon baller to make shallow round divots into rind of watermelon to mimic dimples in golf ball. Next, use kitchen knife to peel thin layers of rind off to expose white underneath, being careful not to cut too deep or red flesh will be exposed. Try to get as much of green rind off so it will resemble a white golf ball.
Hollow out watermelon with spoon or scoop. Place on tray and add watermelon balls to serve.
---
Pork and Watermelon Kabobs
Ingredients
6 tbsp. brown sugar
6 tbsp. soy sauce
6 tbsp. diced red onion
3 garlic cloves, minced
3 tbsp. lemon juice
1 tbsp. olive oil
1/4 tsp. ground thyme
Pepper to taste
1 pound boned, lean pork chop, cut into 1-inch cubes (approximately 38-40 pieces)
32 cubes watermelon (1 inch each), plus extra for garnish if desired
16-24 zucchini rounds (1/2 inch)
16 pineapple chunks, fresh or canned (1 inch each)
24 yellow or orange peppers chunks (1 inch each, approximately 3-4 peppers total)
Cooking spray
Sesame seeds for garnish
Preparation
Combine sugar, soy sauce, onion, garlic, lemon juice, olive oil, thyme and pepper in mixing bowl. Pour into resealable bag and add pork pieces. Seal bag, mix thoroughly and refrigerate for at least 1 hour, turning bag periodically.
Remove pork from bag and reserve marinade. Thread 5 pork pieces, 4 watermelon cubes, 2-3 zucchini rounds, 2 pineapple chunks and 3 peppers on each of 8 skewers, alternating the order.
Spray cooking surface on heated grill and place kebobs on grill. Grill for 12-15 minutes, or until done, turning and basting frequently with reserved marinade. Garnish with sesame seeds and chunks of watermelon.
Serves 8