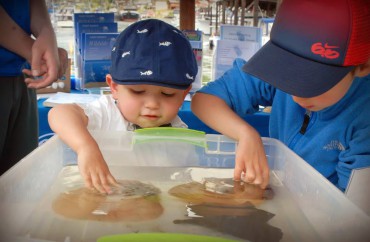 There is a new way for local residents and businesses to support environmental education in their community — through the Harbor WildWatch Steward Club.
With unique programs available to the public year round, Harbor WildWatch has been delivering science education on the Gig Harbor and Key Peninsula since 2004. Residents and visitors have enjoyed these free, fun and family-friendly events, but have long hoped for a way to connect with like-minded individuals on a larger scale.
That all changes this summer with the launch of the Steward Club. Members of the Steward Club are given unlimited access to Harbor WildWatch through innovative workshops, dynamic speakers, and fun social events.
Science Specialist Stena Troyer loves seeing people connect to the environment through the organization. She says she is excited "to see how this new program sparks positive action and accountability for protecting the Puget Sound."
Becoming a member of the Steward Club gives individuals, families, partner organizations and local businesses the opportunity to support Harbor WildWatch through an annual financial contribution. Supporters have the option to choose from a variety of levels, starting at $30 a year for students and $100 per year for families.
In addition to basic levels, you can upgrade your experience by becoming a Super Steward. With levels ranging from $250 to $10,000 per year, these club members receive expanded benefits including program sponsorships and naming rights for special exhibits.
Your gift is tax-deductible and has a direct impact on environmental education in the greater Gig Harbor community. Sign up online at www.harborwildwatch.org or contact Stephanie McCaffery, (253) 514-0187 or steph [at] harborwildwatch [dot] org, for more information.
Harbor WildWatch is a 501(c)(3) nonprofit environmental education organization based in Gig Harbor. Its mission is to inspire stewardship for Puget Sound by providing learning opportunities about the environment to the people in the local community.
Through more than 500 fun and interactive programs each year, Harbor WildWatch hopes to inform residents and visitors about local marine life and elicit their involvement in preserving our natural resources. For more information about Harbor WildWatch, visit www.harborwildwatch.org.