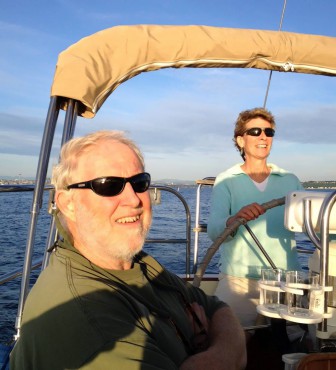 John Steiner and Harris/Zommers Interiors have worked together on client projects for about 40 years. Steiner is a renowned Bainbridge Island woodworker, known for his furniture, cabinetry and other custom work.
Before going to measure an oiled-walnut bookcase system for a new client, I sat down with John in his home overlooking Rich Passage.
Sharing this home, his life and his work is his wife, Sarah, who was at his side for 27 years and finally agreed to marry him two years ago.
Now 64, John Steiner began his interest in woodworking while in his late teens. At that time he had been working for Dick Fichter, a creative arts woodworker in Sumner, but decided to go out on his own.
After arriving on Bainbridge Island in 1975, Steiner received his first commission, an oak coat tree for an insurance company in Winslow. Soon after that, he built several oiled-teak pieces for a home office on the island. Not only a full wall of bookcases, but also a bar and all the cabinets to hold the glassware.
Born in Seattle, Steiner spent his first years in Juanita at his parents' Shady Beach Resort, taking to the water early on. He still likes to be on the water. Aboard "Carbon," he and his crew race sailboats — sportboats, they're now called — up and down Puget Sound.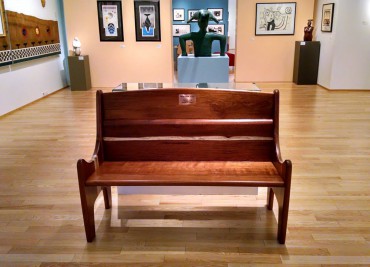 Steiner's more recent installations include several kitchens, one with hickory cabinets and ifilele wood high-back benches, as well as mahogany display tables for the Bainbridge Island Museum of Art.
WSHG: From the beginning of your woodworking career, you have preferred building out of solid wood rather than plywood. What was it that originally made you obsessed with using solid wood? Was Sam Maloof an influence?
Steiner: I attended Maloof workshops and lectures, and also lectures by Krenov, and studied Nakashima. They all used solid wood. Building out of lumber rather than plywood gave me a sense that pieces would last longer and look better.
WSHG: For many, perhaps most, of your original projects you had your own oil finish. The one with the beeswax. What was the formula?
Steiner: That was a Maloof finish: turpentine, linseed oil, urethane (hardener) and beeswax. About a third of each of the first three ingredients, and then a couple of thumbs of beeswax, is what Maloof told me.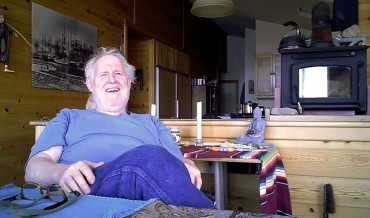 WSHG: How do you work with clients, architects, designers?
Steiner: First of all, I like working directly with clients, especially if they are involved in the project. They're making decisions. They're looking at wood samples. We're mocking up stuff on the wall.
Lots of times, people have a vision but it's hard for them to express it. I've done kitchens where we've had 10 meetings before I start work.
From architects and designers, I just like to have stick drawings, sketches, and for them to tell me to make it work. I then will spend a lot of time with them at the jobsite going over all the details.
Steiner then goes on to explain that it is impossible to work from manufacturers' appliance specifications when designing a kitchen layout. He said that in 30 years of working with appliances, the specifications have been wrong 50 percent of the time.
He insists on measuring the exact pieces, even if all of them have to be delivered to his shop during the building phase. The important details he mentions are door swing clearances, door handle projections and possibly protruding hinges or trim. He says he absolutely will not build unless he can measure the actual pieces that are going to be installed.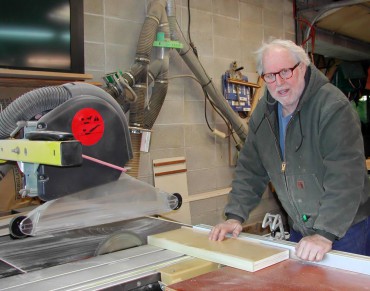 WSHG: Over the years, you have mentioned Buckminster Fuller. How important was he in your life?
Steiner: My spiritual life is a big part of who I am. I believe in meditation-contemplation-prayer.
I try hard to find more peace of mind and less fear. In the early 1970s I attended many of Fuller's seminars, especially on California college campuses.
Several years ago, there was a one-man show about Fuller's life. I was curious about what part of Bucky's life he would portray, since you cannot do it all.
What he focused on was that we are all one. We're all in this together. There is constant fighting and bickering and warfare that's gone on forever. Bucky's message simply was: "Look, we've got to learn to live together."
So, for whatever reason, when I was 18, 19, 20, I really wanted to go into that whole field. I tried ways to do it. I applied for VISTA (Volunteers In Service To America, now a part of AmeriCorps) – kind of like a Peace Corps for the U.S. – but nothing really panned out and woodworking kept falling back into my lap.
At one time I also had a pottery business. It was at the height of the whole pottery phase, probably '70s, '80s, and I was selling everything I could make but, again, woodworking kept coming back. There's a Native American saying: "If you're doing what you're supposed to do, the luck will be there."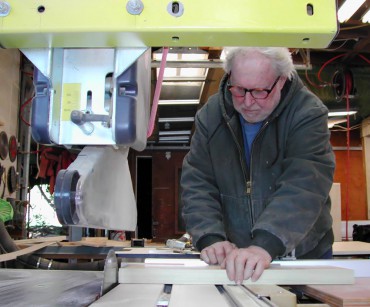 WSHG: Prayer?
Steiner: My idea of God is the space between our thoughts — the quiet. I like to meditate. I like to turn off my thinking as much as possible to bring about relief.
We all have chattering minds with something going on in our heads most of the time that's not really relevant. I like to get rid of that and go to that quiet place.
WSHG: I believe that in the 1990s you took time off building furniture and took to the water.
What I would call diving-for-your-dinner.
Steiner: Actually, I was in the water much earlier. Right after I moved here in 1975, I started free-diving and spear-fishing for crab and stuff. I just loved it.
Then 20 years later, I went to work for the salmon farms right here in Rich Passage. I started one day a week but was still doing woodworking. With diving, I was making 200 bucks before noon so within a month, I was diving seven days a week. Woodworking felt repetitious and I was burned-out, but eventually I did go back to it.
WSHG: Your original shop was a short distance from here, also on the water. Where your home is now was once part of military property. Looking across the field from your shop, I remember this piece of land with a wooden structure on a cement foundation.
Steiner: This was an old laundry building and was sold to a private landowner probably in the 1950s. I was interested in buying this lot but over the years, it kept going up in price and I could in no way afford it.
Then in 1984 the real estate market hit bottom. I offered the owner a contract and he accepted it.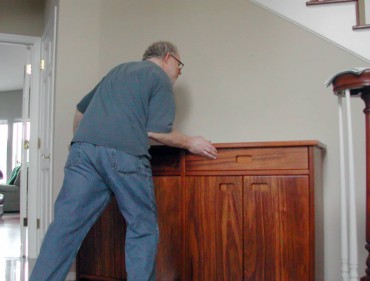 WSHG: What of the original did you keep?
Steiner: I sort of camped in it for eight or nine years but eventually started to construct a house, keeping only the foundation/footing and the cement floor. It's now a three-story house with my shop below the main level and bedrooms above.
WSHG: What projects are going through your shop right now?
Steiner: We're doing an entertainment center out of hickory and just finished a library. I like to have at least three or four jobs going on at a time. You're waiting for glue to dry, waiting for finishes to cure, planning a new piece.
To expand on an earlier question, I like to use solid wood for free-standing pieces but will do 3/4-inch plywood for kitchen cabinet boxes, all edges faced with 3/4 by 3/4 solid wood.
I will not go near particleboard. The drawer fronts and doors will all still be from lumber and I will always use high-end hinges, the best and heaviest drawer glides, and all drawers will be dove-tailed.
WSHG: When you were building your earliest pieces, you showed me how the wood grain indicated that the tree had suffered through dry years. You liked to include those figured sections and, in fact, kept knots even on drawer fronts and doors. That was part of the "John Steiner look."
Steiner: I still like to include figured sections and knots. Once, I built a huge conference table with several knots right on top. I heard that there was a debate among the employees of that company — some people saying that they had spent all this money and there's a knot in there. Other people replied: "Well, that's what's called art."
WSHG: Last thoughts?
Steiner: The most important part about woodworking is when a person looks at one of my furniture pieces and says: "Look how beautiful the wood is." That's when I know that I've done my job, because I want the design to be in the background.
I kind of jokingly say that all my work these days is to support my sports, but I still look forward to working with people — solving problems, staying active. It's all good.