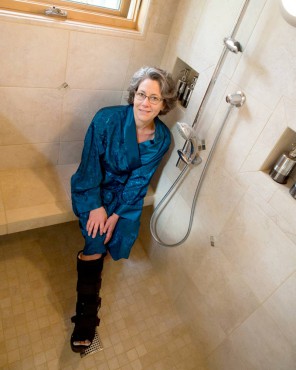 Many readers know me as a contributing writer to WestSound Magazine magazine. I am also a residential designer, remodeling contractor and an avid tennis player.
Ten years ago, I had a mishap on the courts and seriously injured my left ankle.
At that time, the shower in our master bathroom was a 32-by-32-inch, stall type. Needless to say, I had a dickens of a time showering in this confined space with no grab bar or seat.
A year later when my husband and I commenced a rebuild of our home, I vowed to make sure there was a multitude of places to sit down in our new home — and boy, am I glad that I did. Recently, I had an identical accident but this time my right ankle was injured.
When planning your next home build or remodel project, remember to incorporate seating opportunities throughout your home. A bench at the back and/or front door for removing shoes, a seat in the shower, a chair or storage bench in a walk-in closet, a chair or storage bench in a bathroom, a window seat at the landing of a set of stairs, a banquette or eating bar in the kitchen are just a few ideas to consider.
As inconvenient as my injury is, at least this time around I can navigate our home with ease and safety. A seat in the shower allows me to sit and bathe with the handheld shower and under average circumstances, it provides the ultimate in relaxation as the water cascades over me and all the stress of the day runs down the drain.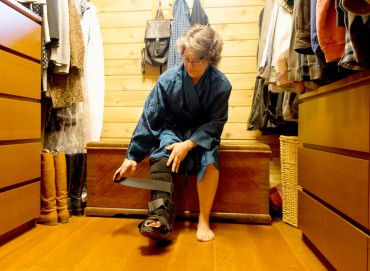 The chair in the bathroom is used for trimming and polishing toe nails, dressing, as well as removing an ankle boot. (I will let you in on a secret, I sometimes pull the chair up to the bathtub and stream movies while soaking)
The cedar chest in the closet (a garage sale find from my college days) is a great place for putting on socks and shoes (and ankle boots), setting a suitcase for travel packing as well as sitting and contemplating what I want to wear for the day.
Warning: Chairs and benches in a closet often become a receptacle for clothes that need to be returned to a hanging rod or dresser drawer. Take this into consideration when selecting the size of the bench or chair.
With a little forethought and planning, you can make your home safe and comfortable and subdue whatever curve (tennis) balls life throws your way. Remember — make a seat, so you may take a seat.