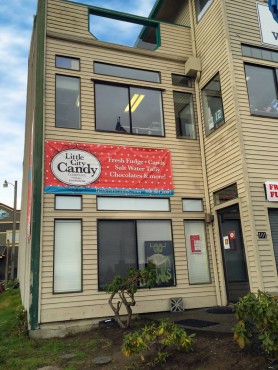 Just north of the ferry dock in Kingston and right by the Kingston Chamber of Commerce, a tiny store front opens up inside like a hobbit house — little on the outside but spacious, welcoming and full of delightful surprises inside.
Lisa Maxwell, the owner of the Little City Candy Co., welcomed me into her miniature supermarket of sweets with an offer of a free taste of fudge, her specialty, made right there at the store.
I knew Lisa as the kind person who had supplied a multitude of candy canes for the Kingston Christmas Lights Celebration and assumed her store would have a few packages of a few kinds of candies she'd shipped in from some candy warehouse that also supplied Wal-Mart.
I was so wrong.
Lisa not only makes her own fudge, she is a confectioner with endless imagination.
She makes pumpkin fudge at Thanksgiving and candy cane fudge along with white chocolate cherry fudge at Christmas. For Valentines season, she offered Cupid's Kiss, a cherry fudge with chocolate kisses in it.
Dark chocolate sea salt caramel is her best everyday seller, but she also does, right onsite, a rocky road and a sugar-free chocolate fudge that go pretty fast as well.
Her wares would not be found in Wal-Mart. I settled in to enjoy the smell of fudge drifting from the back room and to hear more about Lisa's little chocolate nirvana right here in Kingston.
She had tucked delightful specialties here and there all over the shop. I needed a tour guide to take advantage of the full array.
She showed me one shelf of truffles from the chocolatiers at Pink Peony, on Bainbridge Island. Another had sea foam from Elevated Ice Cream Co. and Candy Shop in Port Townsend and kettle corn from Sequim.
There were even offerings from the Two Snooty Chefs in Port Orchard, including white chocolate with rosemary for the adventurous.
She doesn't stop with our Northwest peninsulas. She also offers various British candies and Danish and German licorices.
Lisa and her husband moved to Kingston three years ago, and she started looking for a way to supply Kingston with what it needed while fulfilling her wish to work for herself.
The Little City Candy Co. filled a hole in the community. All waterfront towns have candy stores and Lisa didn't want Kingston, so rich in other ways, to spend another moment without one.
And yes, to keep with the waterfront tradition, she also offers salt-water taffy.
Come visit us in Kingston if you're looking for a really good, sometimes off-the-wall, confection experience. Lisa and Rob Maxwell will happily provide it.