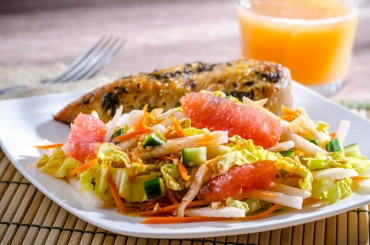 Following a healthy eating plan doesn't mean eating the same dish every day. In fact, as the seasons change, so should your meals and their ingredients, as each season offers a unique variety of fresh produce.
A fresh boost of nutrients is especially important during winter, when nearly half of Americans admit they feel less healthy and energetic, and fewer than 30 percent are consuming the daily recommended amount of fruit, according to recent research by Toluna on behalf of the Florida Department of Citrus.
Salads provide a fun, delicious opportunity to experiment with produce at its peak, such as Florida grapefruit. With this focus on seasonality and flavor, cookbook author Emily Richards is offering a recipe for Florida Grapefruit and Jicama Vietnamese Salad, a nice addition to serve alongside your favorite protein or fish for a balanced meal.
"Including Florida grapefruit in this dish adds a welcome touch of natural sweetness," Richards says. "Using in-season produce helps make this dish as fresh as it is flavorful."
Prep Time: 20 minutes • Yield: 8 (1-cup) servings
Ingredients
1 small jicama, peeled
3 cups shredded Napa cabbage
2 Florida ruby red grapefruit, peeled and segmented
1 carrot, shredded
1 cup diced English cucumber
3 tbsp. Florida ruby red grapefruit juice
2 tbsp. each soy sauce and rice vinegar
1 large clove garlic, minced
2 tbsp. liquid honey
2 tsp. sriracha chili sauce
Directions
Thinly slice jicama and stack slices. Cut into 2-inch matchstick size strips and place in a large bowl. Add cabbage, Florida grapefruit segments, carrot and cucumber.
In a small bowl, whisk together Florida grapefruit juice, soy sauce, vinegar, garlic, honey and chili sauce. Pour over salad and toss to coat. Let stand 10 minutes before serving for flavors to develop.
When shopping for this recipe, consider opting for Florida grapefruit, which has a unique taste due to its growing conditions. Due to their proximity to the Anastasia Formation, a geologic formation composed of sand and coquina limestone, the root systems of Florida citrus trees are able to tap into essential minerals and nutrients in the soil.
This unique fertile soil combined with a lush climate provides ideal growing conditions for grapefruit to thrive, but can also result in wind scars and blemishes on the outer peel. Be careful not to judge a book by its cover at the market.
More information about Florida grapefruit and additional recipes are available at www.Facebook.com/FloridaGrapefruit.
This winter, make your dishes as fresh as they are flavorful. Use in-season produce to tantalize your taste buds and get a burst of nutrients that support good health.