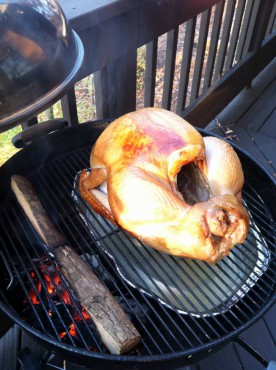 While grilling is usually associated with summer, more Americans are recognizing its year-round potential.
In fact, 80 percent of North American households own a grill or smoker and 60 percent use it year-round, according to recent statistics from the Hearth, Patio & Barbecue Association. Many smoker recipes and barbecue recipes can reinvent traditional winter meals, say experts.
"Grilling turkey over lump charcoal creates a succulent, flavorful entree," says Don Crace, president of Cowboy Charcoal, a brand that caters to grilling purists of the charcoal variety.
For a uniquely smoky flavor sure to impress the crowd, try this recipe for Cowboy' Perfect Bourbon-Maple Smoked Turkey:
---
Ingredients
1 thawed or fresh turkey
1 onion
2-3 garlic cloves
3 sprigs rosemary
3 sprigs thyme
1 bay leaf
Olive oil

Salt (at least 2 cups)
Pepper
Cowboy All Natural Lump Charcoal
Hickory wood chips
1 cup bourbon
1/2 cup real maple syrup
Directions:
Remove neck, giblets and excess fat from turkey. Make gravy from giblets and neck, if desired.
Completely rinse turkey inside and out.
Place turkey in large brining bag that will fit in your refrigerator.
Create brine with 2 gallons water (or enough to cover turkey), 2 cups salt, 1 cup bourbon and 1/2 cup maple syrup.
Refrigerate at least four hours.
Remove turkey from brine, rinse and thoroughly pat dry. Add onion (sliced in half), garlic cloves, rosemary, thyme and bay leaf to inside of turkey. Season the inside with salt and pepper.
Tie legs together with cooking string and twist wing tips under the back or cover with foil to prevent burning.
Brush outside of turkey with olive oil and sprinkle with salt and pepper.
Soak a full package of Cowboy' Hickory Wood Chips in a large bowl for 30 minutes.
Place a foil pan below the grate on one side of grill to catch drippings. To prevent excess smoke, fill it halfway with water.
On the other side of grill, add two pounds charcoal and light it.
Drain water from wood chips.
When lump charcoal is ash gray, add about one cup of wood chips to the fire. Place grate back on grill. Let preheat for about 10 minutes.
Arrange it on the grate, above the pan.
Place lid on grill and cook turkey for approximately 11 to 13 minutes per pound, until internal temperature reaches 180 degrees.
Add additional wood chips and charcoal every 30 minutes or as needed.
When done, transfer turkey to serving platter, cover with foil and let stand 15 to 20 minutes before carving.
---
Turkey isn't the only food to take outdoors — impart dynamic, smoky flavors to other meat dishes, vegetables, fruits and even desserts by grilling over charcoal.
For year-round outdoor cooking tips, as well as food safety handling tips, visit the Cowboy Charcoal Blog, "The Roundup," at www.cowboycharcoal.com/blog.
Cooking outdoors knows no seasonal bounds. Delight feasters by grilling all year.