Let me clue you in on a baking dish that will make life easy and fun.
Some will remember the delightful dishes and cookware that accompanied many a family meal. A lot of those items were Pyrex, a U.S. product that reached the consumer in 1915 with primarily clear dishes.
Then in the mid-'40s the color Pyrex was introduced and referred to as "opal," soon to follow with opal-patterned bowls and cookware.
I am taking you to one dish — a one-and-a-half quart, divided, oval casserole that came in various colors and usually sold with a clear-glass, divided lid.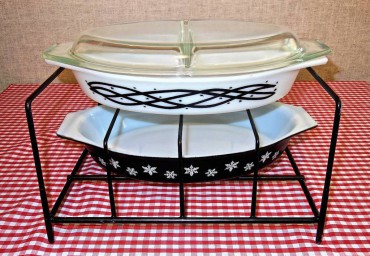 This oval, shallow dish is a common sight in many family cupboards and thrift shops, but I am guessing they are seldom used.
Thousands of visitors have come through the Bremerton Pyrex Museum, and many have commented that they find the casserole dish impractical; not much room on either side and two different foods may have different heat and length of cooking requirements.
Being married to Earl Sande, an avid fisherman, I am always looking for new fish recipes. This last summer I fell in love with the Pyrex divided casseroles dishes, for they made cooking and serving fish easy.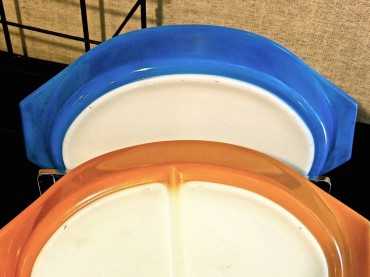 Place fish in one side and a vegetable in the other. A small amount of liquid with the vegetable and a sauce of choice over the fish; maybe a white cream dill sauce over the salmon or a garlic butter white wine over halibut.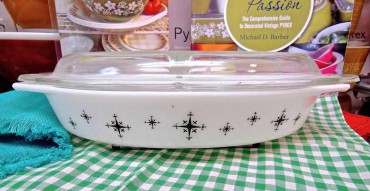 Sometimes Earl likes white fish with a green salsa topping. A topping of choice is optional; maybe a light cheese or crunched up crackers, chips or a crust. Amazingly this arrangement will easily serve two, and with a side salad could serve four.
Usually a half hour at about 375 – 400 degrees will do it. Serve in the same beautiful casserole dish and use the lid. Turn the lid upside down and use as a tray for bread and garnishments.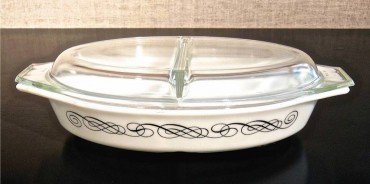 I saw that lid tip on an old Pyrex brochure. The lid was used for an appetizer serving plate. The brochure showed the divided dish with green peas and yellow corn. Yes, pretty and perfect for parties.
Cleanup is easy, as few cooking dishes are used. Pyrex cleans easily — scouring pad for cooked-on food or soak in soapy, hot water. I do not recommend dishwasher or the pretty Pyrex color will fade.
A bit of trivia: Turn the Pyrex divided dish upside down. If the bottom is smooth clear across, it is an older piece. In 1962 the mold was changed for some reason, and the bottom shows a clear division crease.