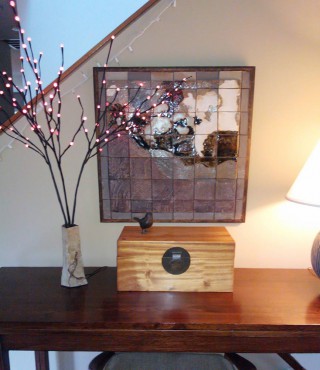 If you have just moved into a new house and need to know how high to hang all your pictures, start by holding up an artwork so that the center of it is about 5 feet from the floor. Have a second person judge whether it looks too low or too high.
Always favor being slightly lower than you think it should be.
Once you've decided on the final height, measure down from the ceiling, or up from the floor, to the top of the artwork. If near a wall, note the distance of the center of the piece from that sidewall. Mark down those sizes.
If the piece of art has a wire attached to the back of the frame, put the artwork face down on a soft surface and measure the distance of the wire from the top of the artwork.
That dimension is probably close to 2 or 3 inches. Add that to the measurement from the ceiling and install the picture hangers at those points.
If the measurement was taken from the floor, then deduct those 2 or 3 inches from the measured distance.
It is best to use two hangers rather than just the one in the center. The two will keep the artwork from tilting out of line. Also, put gummy vinyl dots, not felt pads, at each lower corner to keep the piece from shifting.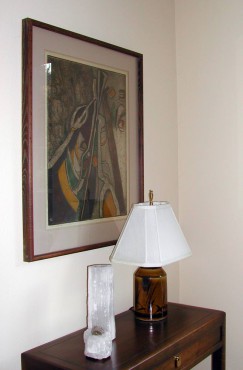 It is always best to place artwork above a piece of furniture, such as a sofa, a chair or a table, and try very hard to have it be narrower than the piece of furniture supporting it.
You may also need to install a light fixture over a dining table. The lowest position of the bottom of the fixture should be about 60 inches from the floor. That would be about 30 inches from the top of the table.
The easiest way to remember that is that the distance from the top of the table to the bottom of the fixture should be the same as the table height, which is usually close to 30 inches.
If the fixture is held by a chain, simply use an S-hook to later raise it if needed. Most fixtures held by the power cord have a small, steel cable for height adjustment.
If you are installing a heavy crystal chandelier, do not rely on just attaching it to the two screws in the electrical box, unless the box itself is correctly secured to a ceiling joist or beam. Many electrical boxes are held in place by a single nail.
If you are unsure, have a professional electrician do the job, just to be safe.