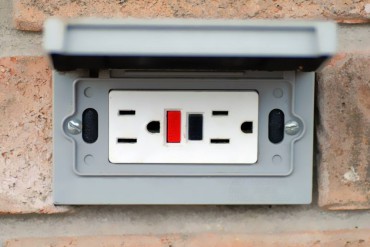 When you are thinking about holiday decorating, it is usually after you have built or remodeled — and you realize that you should have put an outlet here or there, or planned for holiday lights.
While those things can be added after the fact, it's helpful to plan out what you might need before the holidays approach.
You'll want plenty of exterior outlets for lights and lighted decorations. Some in the soffits, at the entry, and maybe even in the landscape for lighted trees and shrubs, depending on how big your yard is. You'll also want to decide how to switch them and where to locate the switches so they are not cumbersome all year long, with people wondering what the heck that switch is for.
For this reason, we often put them inside the coat closet. You know where they are, they are easy to get to, and you are not flipping a bunch of random switches when trying to turn on the porch light.
You might also think about sensors that will only have the lights on after dusk, automatically turning them on when it gets dark then back off when it gets light again.
If you like to have lighted decorations in your street-facing windows, you'll want to have an outlet located nearby. While many small decorations are battery operated, there are still many that plug in.
Do you like to decorate a mantel? You'll need to be sure it is at least 6 inches deep; 8 or more inches is better for detailed displays. An outlet (or two) in the mantel top is helpful for light.
For exterior lighting, a cool option is to conceal colored LED rope light under the fascia boards in one or two colors. Again, they can be switched in a hidden location so you are not turning them on at odd times. This type of lighting is less traditional, but creates a cool, colored glow that will not require the annual chore of putting lights up and taking lights down, along with the joy of untangling them both times.
A little advance planning will help you to be prepared for holiday decorating ease every holiday season.