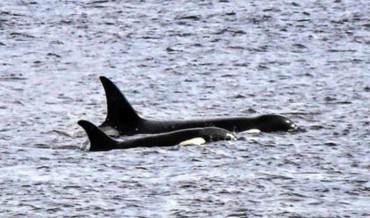 It's not rare to spot the iconic orca whale (Orcinus orca) here in the South Sound; you just have to know where to look. Whether you view them from a boat or from shore, it is always a delight.
Orcas belong to the Delphinidae family, making them the largest dolphin. However, orcas are considered a whale because they can reach over 30 feet in length.
They are toothed whales and can be found in all oceans throughout the world. Viewing this apex predator in the wild never gets old here in the Pacific Northwest.
In Puget Sound, we have both resident orcas that reside in our local waters year round and transient orcas that travel through the Puget Sound during the year but never create a permanent residence.
The Southern Resident Community includes three pods: J, K and L. Researchers have identified 90 orcas total.
Resident orcas feed on local salmon and squid populations while transient orcas feed on large marine mammals like seals, sea lions, porpoises and dolphins. This time of year is perfect for resident orcas feeding on the returning local salmon populations.
Most Washingtonians assume the easiest way to experience orca whales is to travel further North toward Canada or to visit the beautiful San Juan Islands. Both are remarkable places to visit and relax but how about seeing orcas in your own neck of the woods?
Resident orcas travel throughout Puget Sound to feed on delicious wild salmon in the fall and winter, October through January. Although it's chilly outside, this is the best time to be on orca alert!
Many resources deliver the latest whale sighting news. Both the Whale Trail and the Orca Network provide daily sightings for orca whales in the South Sound and even maps of great shoreline observation sites.
It is important to note that the safest way, for both orcas and humans, is to enjoy the excitement of seeing these magnificent creatures from the shore.
Local observation locations* from shore:
* Locations may require a Washington State Discover Pass.