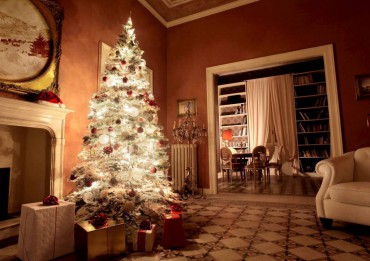 You've invited all the guests, planned menus and then you realize that it might be nice to do some little fix-ups around the house. Don't fret, there are lots of little things you can do to make your house look fresh and sparkle for the holidays.
The major go-to is to have the carpets professionally cleaned, a no-brainer.
One thing most people don't think about is professional tile and grout cleaning. Using a high-pressure scrubber, you can make your tile and grout look like new, and color-seal the grout to keep it looking that way for a long time.
You can change the look of your kitchen or bath quickly with a new tile backsplash. More intricate designs or tile shapes might require a professional, but there are lots of options for the do-it-yourselfer.
Another fast kitchen spruce-up is new cabinet hardware. A good selection is readily available at local box stores or online if you want a more vast selection. This is a fast and easy project.
Paint is another common fix, and popular because it is fast and easy, and can be done by almost anyone. Even just an accent wall can make a huge difference.
Have an old brick or stone fireplace you have never loved? Paint can give it a quick, modern update. Specialty paints and finishes or even wallpaper can add some extra pizazz.
For the DIY fans, swapping out the chandelier or powder-room light can be a quick and attractive update as well, and if electrical DIY is not your cup of tea, you can always call an electrician.
There are also pendant lights available that screw into your existing can-light fixtures. They can really change the look over your kitchen bar or island, no electrician needed.
If you have gas fireplaces, refer to the owner's manual for how to remove the glass front and give the glass a good cleaning. This often goes unnoticed, but makes a big difference. The same can be said for a professional window cleaning.
To top it all off, give yourself and early holiday gift and pay for a professional housecleaning while you catch up on other holiday tasks. This will ensure that you have some sparkle left by the time all your guests arrive.