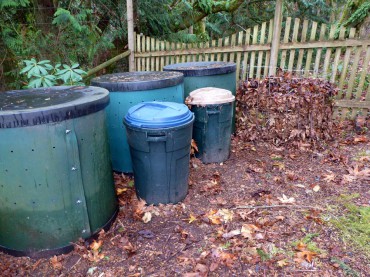 Fall brings a bounty not everyone is excited about: piles of fallen leaves.
In my garden, this abundance feels like early Christmas. All that organic material is at my disposal, and the only cost is a bit of exercise!
I hope you will share my enthusiasm after I talk about some of the ways you can use this free gardening material.
While I do rake or mow fallen leaves from my grass, I only lightly rake my shrubs and perennials. I make sure the finer foliage is not smothered by the big-leaf maple leaves and that the evergreen shrubs can continue to photosynthesize and receive sufficient air flow during the wet, dark months ahead.
The remaining leaves stay in the beds to provide protection and mulch.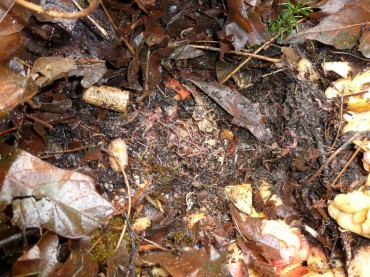 Rotting leaves provide cover for many organisms as well. Amphibians, like our Northwestern salamander (Ambystoma gracille), the Northern red-legged frog (Rana aurora), and the Pacific treefrog (Pseudacris regilla) depend on the moist environment created by fallen foliage to keep their skin from drying out (www.burkemuseum.org).
I am always thrilled to discover these creatures in my garden, since they are a key indicator species of our environment, just like the canary in a mine. These animals breathe through their skin and are very sensitive to environmental stresses.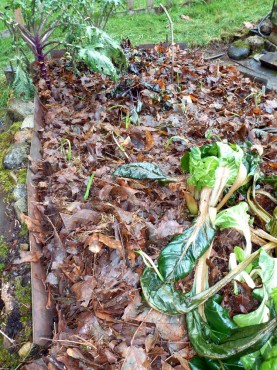 I mix some of the leaves that were chopped by the mower with green weeds and other compostable materials to get a good compost pile going. The mixture of brown and green materials heats up enough to make me wish I was small enough to crawl into that warm pile on rainy days.
The remaining leaves are saved next to my worm bins to be used throughout the year as I add kitchen scraps. If I did not cover the scraps with some brown material, the food scraps would attract flies and rats.
The leaves keep the red wriggler worms well-protected throughout the winter so they can keep working on making the wonderful vermicompost for the vegetable garden. (photo 2, with the leaves pulled away, we can see the red wrigglers eating through kitchen scraps even in freezing temperatures).
A good portion of my leaf bounty ends up protecting the vegetable garden and some tender plants.
A few years ago, I got tired of the struggle of turning under the rye cover crop every spring, and started to cover my weeded vegetable beds with leaves.
I especially like this method on my fall-planted garlic and potato beds. The leaves in these beds remain in place throughout the growing season, feeding the soil organisms as well as keeping weeds from becoming established.
The soil has become friable and moisture-retentive as a result, and the beds look well-kept without any further attention from me. (photo 3, fall planted garlic mulched with chopped maple leaves).
Finally, I have decided to overwinter my red banana, Muso ventricosum 'Maurelii,' outside in the ground this year (USDA zone 8B), protected by a column of dry leaves.
To keep the trunk dry and protected from rotting, an old window will keep the rain from drenching the leaves. I cut the trunk to about 2 feet before planting it in the ground.
If the weather turns very cold, a wrapping of burlap and some Christmas lights will add further protection. This magnificent plant has become too large for any indoor storage I could provide, and I hope this will provide sufficient protection. (photo 4, protection for the tender red banana).
Save those leaves and make magic in your soil!