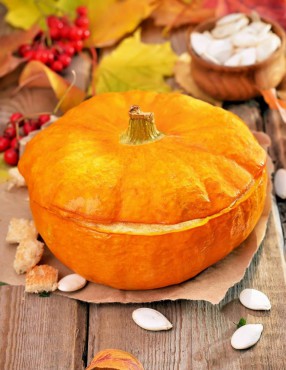 It's that time of year that we all feel it — the urge to go inward, for days at home by the fire with family and friends. It's that time of year when sunset happens at 4:29.
We all tend to eat comfort food this time of year. We want to share food and companionship.
In the spirit of the chilly season, the team at Mossback Café shares this comfort recipe with you and your family. We love nontraditional food feasts, and this stuffed pumpkin is a delicious way to be creative and use locally procured finds. We love to change up the fruits and grains.
By the way, the term "Mossback" refers to a cohort of people who were a part of the original group who came west on the Oregon trail. Some headed to sunny California, where growing seasons were long and abundant. Others sensibly stayed put to homestead in Oregon, where community was burgeoning already being established.
Then there were those who drove north in the face of criticism about doing things the hard way. Underbrush was thick and life was agreeably harder in the Pacific Northwest for settlers.
Mossback became a term to mock those who chose the Northwest life over easier places to settle. It was synonymous with doing things the hard way. The long way and from "scratch."
Over a hundred years later, the word Mossback has come around to its virtuous traits of the handmade life. It is an affectionate term for those who do it themselves — gardening, canning, preserving fermenting and processing meat.
Chances are if you live in the Northwest, you have at least some "mossback" nature. Here's to life in the beautiful Pacific Northwest!
Stuffed Pumpkin Recipe
Ingredients
1 pumpkin, 6-8 lbs
4 tsp olive oil, plus additional for drizzling on pumpkin
salt and fresh ground pepper to taste
1 cup uncooked quinoa, rinsed
2 cups apple cider or chicken broth
2 cups finely chopped scallion or leek
1/2 cup sliced roasted chestnuts
1 cup roasted pumpkin seeds
1/4 cup dried cranberries, chopped
4 cups chard, chopped
1 tablespoon fresh parsley
1 pear sliced
8 oz goat cheese
Instructions
Preheat oven to 350 degrees.
Cut top of pumpkin, clean and remove the seeds. Drizzle olive oil inside, coating the meat, then sprinkle with salt and fresh ground pepper. Place pumpkin flesh side down on a foil-lined sheet and bake for 30 minutes.
While pumpkin is baking, combine quinoa and cider or broth in a medium pan. Bring to a boil, then lower heat and cook until water is absorbed and quinoa is nice and fluffy.
While quinoa is cooking, heat olive oil in a pan, then add onions and cook until translucent. Push onions to the side of the pan and add almonds, stirring constantly for a couple of minutes to toast. Remove pan from heat and set aside.
When quinoa is done cooking, pour it into a medium bowl, then stir in onion/almond mixture, pumpkin seeds, cranberries, chard and parsley. Season with salt and pepper to taste.
When pumpkin is cooked, remove from oven. Layer quinoa pilaf mixture with goat cheese, pears and more quinoa mixture gently into the pumpkin.
Notes: Cover with pumpkin top or foil. Reheat when ready to serve, 20-30 minutes at 305 degrees.