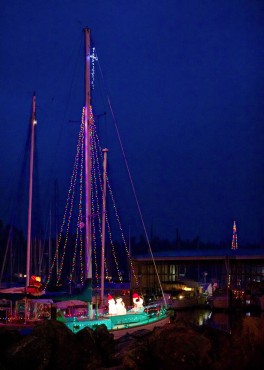 In December, night comes earlier, temperatures are colder and lights cast halos in the mist.
Sounds are muffled as people file off the Kingston ferry, mesmerized by the iridescent world of exotic sea creatures and spellbinding aquatic gardens, all made out of tiny lights. The display fills the huge, beautifully landscaped area between the docks and the parking lot.
We moor our boat at one of the Kingston docks, so I feel that, in a small way, I am a part of the scene.
As I come and go, I watch volunteers and marina employees spend weeks building a fantasyland of lights just for the beauty and joy of it.
I love to be part of the festival on the first night the lights come on. The celebration begins early in the afternoon on Dec. 6, and many Kingston businesses will be there.
Borrowed Kitchen Bakery will donate cookies, Little City Candy Co. will give away candy canes and the Kingston Chamber of Commerce will provide free hot chocolate for the kids. Kingston Pizza Factory and Dog Wagon will provide pizza and hot dogs while Micki from D'Vine Wines will serve mulled wine as well as her usual offerings at a beer and wine bar.
Kids can get an early start on the afternoon at Kingston Cove Yacht Club, where the Kiwanis will host Santa's Workshop from 1 to 3:30 p.m. so little hands can create Christmas treasures.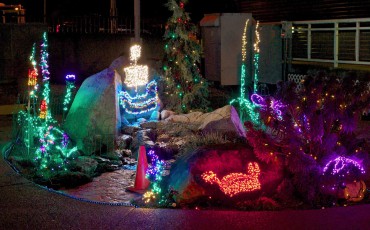 At 3:30 p.m. bonfires will warm the afternoon as the Kingston High School Choir and Band fills Mike Wallace Park with Christmas music. Afterward, Jingle Jam Band led by Joey Graham of Essential Audio Group will invite everyone to sing along.
A fire truck, red lights flashing in celebration, will bring Santa through the applauding crowd at 5 p.m. He will get off the truck, wave, then flip the switch that turns on the miraculous array of lights throughout the marina grounds and on decorated boats at the guest dock.
With holiday music in the background, the boats will slowly, gracefully pull away from the dock one by one, and then cruise around Appletree Cove, lights reflecting along the water. That's when, for me, the Christmas season will begin.
I love the magic that is Kingston Cove at Christmas time. This year, I'm told that it might even snow on Dec. 6. What a merry wonder that would be!