My experience with apples did not extend much beyond Fuji, Honey Crisp and Jonagold before attending the Peninsula Fruit Club's Fall Fruit Tasting Show this October at the Silverdale Community Center.
I was thrilled to see 175 different types of apples grown in Kitsap, plus pears, grapes, kiwi and nuts brought from club members' gardens for sharing with anyone who walked in the door. When I asked about the number of different apples, someone said that their members grow more than 400 different types.
I was impressed by the large number of apple cultivars I tasted and decided that a few should be added to my garden next year.
'Delcon,' a 1916 cross of Delicious and Jonathan, originated in Missouri and is a sweet apple that is a good keeper. If I grow apples, I want to enjoy the harvest over a few months. Next spring, on March 14, the group will have a Spring Grafting Show at the same location, where I will be able to purchase rootstock and scion wood to grow my own 'Delcon' apple tree.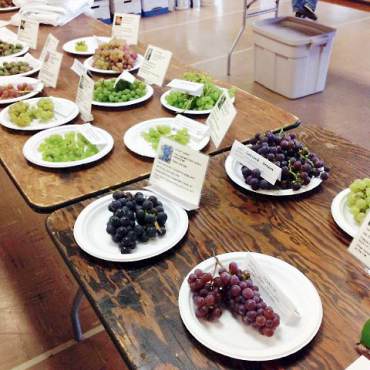 'Davey' is another cultivar I hope to add to my garden. 'Davey' is a Macintosh seedling that is said to keep all winter.
This educational event included displays of how to care for mason bees, which are a main pollinator of the blossoms of trees and small fruit.
Last spring, my strawberry patch was producing some misshapen and not fully formed berries and when I asked a garden club member what the problem might be, he said it could be a pollinator problem. He suggested looking into getting more mason bees into the garden.
The fruit club was selling small, wooden mason bee blocks that should encourage nesting next February. Members explained where and how to mount the nesting box.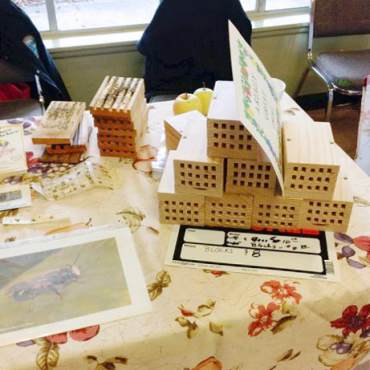 Another educational display included a warning of a pest that is new to the area since 2009, the spotted wing drosophila (Informational PDF).
This small fruit fly lays eggs on the fruit and ruins it near harvest time. I was told that this pest has been seen on Bainbridge this year. Kitsap fruit growers should be informed about this pest and learn more about protecting their fruit crop.
If you buy a new place that has existing fruit trees that need identification or you think you might want to plant some fruit, don't miss this local resource of experienced fruit growers. The club is a chapter of the Western Cascade Fruit Society and meetings take place in Bremerton at the Sheridan Park Community Center on the second Thursday of the month (except December) at 7 p.m.