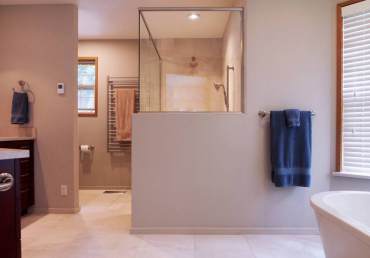 With the onset of fall and chilly mornings, our motivation to pop out of bed each workday and dash to the shower wanes. Many of would prefer to stay snuggled under the warmth of our bed covers.
However, there is a way to extend the snuggly, warm feeling in your bathroom while simultaneously providing a heat source and preserving the indoor air quality of your home — with a heated towel bar.
Not just a luxury item, towel bars can function as an efficient means of providing auxiliary heat to a chilly bathroom. They also dry out your bath towels quicker, potentially reducing the frequency in which you need to launder your bath towels, while preserving your indoor air quality by minimizing musty air from damp towels.
Towel warmers can double as a drying rack for lingerie as well as make your PJs toasty-warm while you take a hot soak in the tub. For bathrooms with limited wall space for towel bars, they can provide tiered vertical towel hanging space.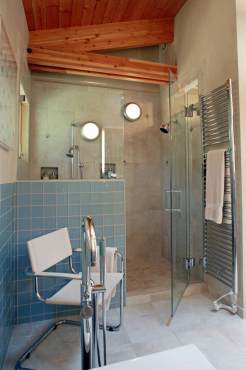 Towel warmers come in two basic types: electric (110 volt, either plug-in or hardwired) and hydronic (connected to a hydronic in-floor heat systems). They can vary in price from a few hundred to several thousand dollars depending on size, finish and features.
Electric models can be wall-hung or free-standing while hydronic are either wall-hung or floor-mounted (not movable). There are also numerous styles and finishes to choose from.
The most important feature to consider when selecting a towel warmer is the spacing between the horizontal bars. The closer together the bars are, the more effective the unit is at heating/drying your towels and clothes.
The second most important feature is the location of the on/off switch or the inclusion of a timer. Easy access will ensure that the unit is not left on, wasting precious energy.
Note: If you select a hydronic model, unless you have a dedicated hot-water source for the towel bar, you will only be able to operate it when the in-floor hydronic heat is being used, and there may be times in the middle of summer when you will want to use the towel warmer, so think twice before selecting a hydronic model.
Towel bars need a bit of time to heat up — at least 30 minutes — so programmable timers are a welcome feature with any towel warmer because you can set it to start before you rise in the morning and to shut off 30 or so minutes after you are likely to finish your shower, allowing the bar to assist in drying your towel.
Towel warmers are best installed by a licensed electrician or plumber, depending on the model type.
To learn more about towel warmers, consult with a bathroom designer or visit a plumbing showroom such as Ferguson's in Port Orchard or Keller Supply in Bremerton.