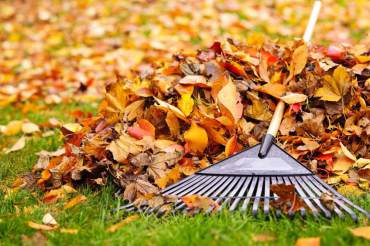 Now that fall is upon us, I have started to notice the changing leaves on my way to and from the office. The beautiful colors of fall always bring a smile to my face, but the mess that follows from falling debris quickly turns that smile upside down.
It is a necessary evil for us all to get out and clean up our lawns and gardens as the leaves make their descent. How we choose to manage this can give us the warm feeling of cozying up to the fireplace with a warm beverage in the evening. After all, all of this debris is compostable!
In nature, the materials that fall from the trees decompose and become beneficiary nutrients in the soil. We can replicate this process to an extent in our lawn and garden.
It's as simple as putting the debris in the yard waste bin or delivering the material to one of two local composting facilities or several yard waste drop sites.
You may have read my post back in June and built your own backyard composter. This is also a great place to manage your fall leaves if you generate a manageable amount. My composter would be overwhelmed by the massive maple trees I have to clean up after, thus it necessitates a trip to my local drop site.
You might be saying to yourself, "I burn my yard debris; I have no need for this!"
Well, I'm asking you to hear me out here: Burning is not the best management option.
Why waste a resource? Compost facilities want this material and need it to provide high-quality compost for you to consume in the spring.
Just think about how great it is that you can go back to the compost facility or the local hardware store in March or April and purchase the high-quality compost made from your efforts in the previous fall. It's a great feeling — trust me.
Besides, burning your waste this time of year generally creates copious smoke and degrades air quality, and can pose a safety hazard to you and your neighbors.
Clean up in a safe and eco-friendly way this year. Give composting a chance, and don't forget to buy your locally sourced compost next spring (Oly Mountain Compost and Olympic Organics are the closest options on the Kitsap Peninsula).
Your lawn and garden will thank you!
For more information on organics management in Kitsap County, click here to download an informational PDF or email me at cpiercy [at] co [dot] kitsap [dot] wa [dot] us.