When selecting plants for landscaping, you'll find several types for extending interest in the garden for more than three seasons. Roses, hydrangeas, hardy fuchsias and conifers are just some examples.
In this video, you'll see Lacecap hydrangea, Rosa glauca, Abies koreana 'Horstmann's Silverlocke' and hardy Fuchsia magellanica 'Aurea.'
Here's how they add yearlong interest in local gardens.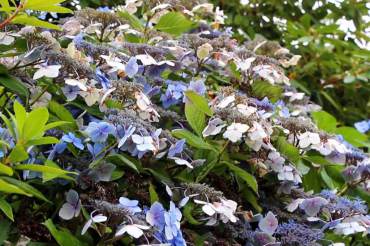 Rosa glauca has interesting stems in shades of red, ruby and crimson, with silvery green foliage that reflects back shades of purple and mauve at times. The five-petaled roses are deep pink with white in the center, sepals are golden yellow and the very center of the rose is a bright green. All these colors combine to provide "ahhhh" moments upon viewing this beauty in the garden.
Rosa glauca can take center stage or hide in the background, but give it lots of room. It can grow 6 to 10 feet tall (sometimes taller) and 4 or more feet wide. It can also drape in arches when given lots of room to grow.
Flowers bloom in spring into mid-summer, followed by rose hips in shades of orange and red, lasting from late summer all through winter when branches are bare.
This rose first came to gardening attention during Heronswood's prime. Many gardens throughout our peninsula have Rosa glauca and if you don't yet have one, you'll want to find her a place in your own garden.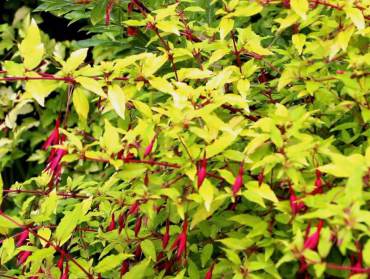 Conifers add year-round interest in a landscape. A charming one that is slow-growing and stays under 20 feet tall forever is Abies koreana 'Horstmann's Silverlocke,' growing only 10 feet tall and 6 feet wide in 10 years. It rarely grows more than 20 feet at the pinnacle of its life.
Needles are deep green and curved, with silvery white undersides. Purple cones are held upright on the branches. This tree is perfect for a small garden, growing in a container or in areas with covenants about trees interfering with views. It is disease-resistant.
There's always room for hardy fuchsias. Fuchsias start growing in late winter or very early spring and flourish with great foliage colors, from variegated to burgundy and all shades of green imaginable.
Blooms come on from late spring into mid-summer and continue until freezing temperatures. A favorite is yellow-green-leaved Fuchsia magellanica 'Aurea' with scarlet sepals and deep purple corollas. It has fondly been nicknamed lady's eardrops and golden fuchsia. The red stems are quite striking.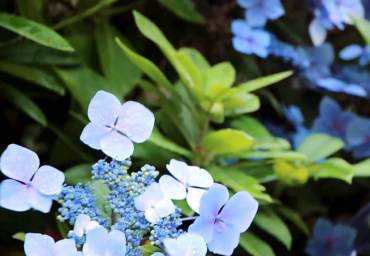 This shrub loves to sprawl and can fill in a space from 6 feet wide to 5 feet tall. Some years, it will die down to the ground, but always comes bouncing back to life each spring. It can be pruned to the ground and will grow to its maximum size in one season.
Every garden needs at least one hardy fuchsia. This beauty will also grow well in containers. Remember, too, that fuchsias are hummingbird magnets.
No garden should be without a hydrangea, or two or three. They come in all sizes and colors. Flower shapes vary tremendously too.
Lacecaps are quite popular but mopheads are close behind in popularity. Oakleaf hydrangeas have stunning fall foliage and gorgeous, cone-shaped, creamy white flowers. Flowers on some of the newer oak leaf varieties bloom out in shades of pale green, turning to cream color and finish up in shades of pink and rose. They're absolutely stunning.
Fall foliage of all varieties turns to yellow and gold at a time when many leaves are turning brownish. The oakleaf hydrangeas turn shades of crimson, orange and gold. Many of the blossoms of the lacecaps and the mopheads dry beautifully and add lots of winter interest when left on the plants.
Hydrangea preziosa is a favorite of many gardeners. Foliage colors change through the seasons, as do blooms. Stems of preziosa are deepest magenta. This shrublike hydrangea stays relatively small and manageable and would be ideal for smaller gardens, but lends itself to large gardens too.
Nearly every hydrangea choice you'll find is suitable for living in a container for several years.
The choices abound for hydrangeas and you'll find varieties suitable for sun, shade and partial shade. Plan on adding a hydrangea or two to your own gardens.
Fall is the perfect time to visit local nurseries and garden centers. Check out all the shrubs and small trees, both deciduous and evergreen. Look for choices with interesting foliage, blooms, stems, structure and even fruits (usually nonedible berries) to provide nearly yearlong interest in your own garden.