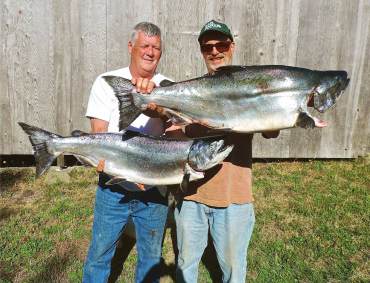 Fall is here. Golden and red leaves are dominating the airway and transforming the Earth with a new, patterned blanket.
The once-prevailing basil is bowing now, as if to say, good performance, curtain going down.
A few weeks back that basil bush was so full of life, plump and boasting. But looking closely, one could see a wariness of performance. It was time to prepare or use as much of it as I could. (It had been a summer of basil recipes.)
Fishing was also good. The magnificent summer ocean king salmon brought bounty to many a fisherperson. My husband, Earl Sande, and his friend Crag Coons caught huge beauties. Crag said he was going to smoke his, and Earl's plan was barbecue.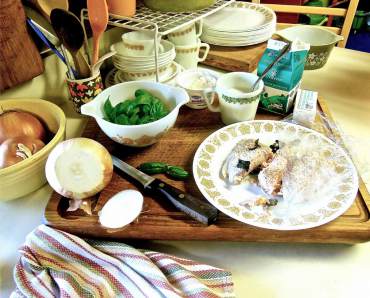 Here was the dilemma: lots of leftover barbequed salmon and a big bush of basil.
To make things special, I selected a small appropriate dish from the Pyrex Museum. It was a small, round, avocado-green '70s casserole with white flowers called "Spring Blossom."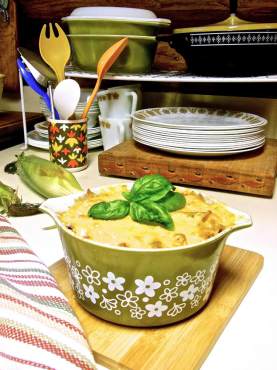 Being that the casserole dish was small, I didn't feel guilty with calories.
I sautéed a half an onion with a strip of chopped bacon and sun-dried tomatoes. Then I added that to a sauce of buttermilk, Greek yogurt, butter, a little bit of ranch dressing, lemon zest and finely chopped celery.
I added that to a small amount of half cooked wheat noodles, a cup of chopped basil, lots of salmon, and seasoned with garlic, pepper and Mrs. Dash. Filled casserole and baked covered for about 20 minutes. Then it can be topped with most any cheese on hand and continue baking uncovered until cheese begins to brown.
Salt was not mentioned. That would be to taste.
This was an experiment. Making a rich, white sauce was the fun direction that could be concocted to taste. We served it with a green salad. Results were wonderful.
The leftover salmon and basil were great performers and that was the whole idea — they were the stars.