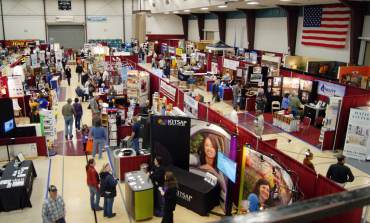 As you migrate indoors and into your home's cozy spaces, this is a good time to turn attention to those deferred home décor or home improvement projects — before the holidays take the best out of you.
Just in time to take advantage of the downtime in the garden, Peninsula Home & Remodel Expo brings the newest home and garden ideas under one roof. The three-day show, which kicks off this Friday, Oct. 3, will feature all kinds of products and vendors focusing on what's new in kitchen trends, how to extend your outdoor season and trendy outdoor projects such as solar and rain gardens, among other things.
For the home-décor divas, the Rooms of Inspirations are a must-stop. The three rooms will display complete layouts for three different lifestyles, down to the furnishings and décor.
From Arnold's Home Furnishings comes a living room infused with the trendy colors of gold and black. The warm colors, just in time for fall, are inviting and elegant. One of the room's focal points will be a Stressless chair — a hands-free recliner with ottoman that was designed ergonomically by a chiropractor.
From Furnish Bainbridge, the Room of Inspiration is a family living room that is both superpractical and stylish. The star of this room will be a sofa made of Sunbrella fabric — originally created for outdoor furniture. Who said you can't have furniture that guests can use and kids or dogs can crawl all over?
And if you're still thinking of the sunny days of summer, the third Room of Inspiration, from Eclectic Home Furnishings, indulges those memories with a beach theme.
The expo also includes free seminars throughout the three days by local experts and a Habitat for Humanity used materials shop, where you can find odds and ends for your next DIY project.
If you're not ready to redecorate or take on your next project, stop at the expo on Saturday for the second annual chili cook-off, which begins at 2:30 p.m. Enjoy a taste of chili from each of the nine participating restaurants, and help choose the winner.
It's a tasty treat for a good cause — proceeds from the cook-off tickets go to the Kitsap Builders Foundation, a nonprofit arm of the Home Builders Association of Kitsap County that sponsors a variety of community projects.
The event is held in the Kitsap Sun Pavilion at the Kitsap County Fairgrounds. For tickets and other information, go to kitsaphbahomeshow.com.