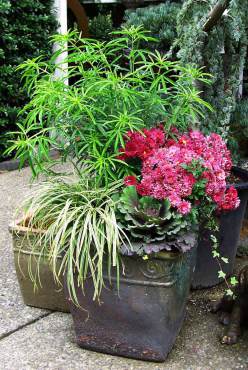 The days are getting shorter and the mornings have a misty coolness to them. Now that fall is officially here, it's time to change out summer color plantings and potted color gardens.
It is much like changing your wardrobe for the season; the summer clothing gets put away and out come the sweaters. So it goes with plants — the geraniums and petunias may look like they will go on forever but it is time to freshen up plantings with rich colors, textures and cool-weather bloomers.
Start by cleaning out fading and dead plants, including annuals that still may look OK but it is only a matter of weeks before they go. Trim and clean up remaining hardy perennials and evergreens.
Remove weeds and scrape the top layer of soil off the container if needed. In gaps where plants were removed, loosen soil and add a small amount of well-aged compost or fresh potting soil as needed. If all plants in the container need to be removed, change out the soil completely to avoid harboring bugs, slugs and weed seeds.
Now for the fun part. Shop for the latest colors and textures for a fall fashion show in the garden. Think layers. Create and dress up plantings with tall, medium- and low-growing plants to create dimension and interest.
Start with tall in the center or to the back and layer down to the rim of the pot. Accessorize with the color of bold leaves and ornamental grasses. Drape frills over the edges with plants that creep and spill over.
Step back and look at the container with a designer's eye. Much like the rule that vertical stripes slenderize and horizontal widens, look at how grasses and columnar evergreens flatter the shape of the container.
Don't be modest about mixing hardy perennials with needled, dwarf evergreens. Choose bold colors that harmonize with the container; height will add a touch of drama. Combine spiky textures with leafy, variegated with colorful. Don't be afraid to overdress; fill the container abundantly with no gaps. Plants do not grow as fast in cool weather, so there is no need to leave spaces for growing and filling in.
When placing fall and winter color spots, look at them from another perspective: Go inside. As we spend more time indoors during fall and winter, make the outlook enjoyable. Place planters where they can be seen from the inside or at entry points along walkways or patio.