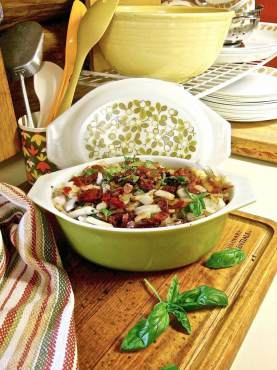 There's a lot of basil out there this time of the year, but it has reached the end of the season. Folks are scrambling to use and process the fresh aromatic leaves — drying and making yummy basil butter and pesto concoctions.
Basil is a common name for the culinary herb Ocimum basilicum of the family Lamiaceae, sometimes known as Saint Joseph's wart. The word basil was derived from an old Greek word, basilikoh, meaning loyal.
There are some 60 varieties of basil. The sweet basil most common to us grows very well here. Thus, the dilemma is using it before season ends.
I came up with this great recipe totally by accident. It was a dinner goal to use as much basil as I could and having a lot of sweet potatoes on hand created the direction.
I call this simply "Sweet Potato Basil" casserole — healthy and low salt.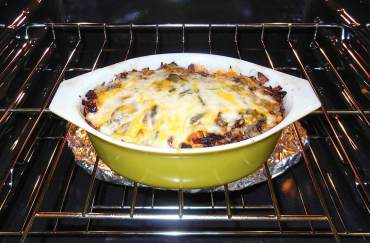 First, slice up a huge sweet potato that has been partially nuked and combine with a cup of chopped basil and a can of drained tomatoes. Next, sauté one onion, five sliced mushrooms and two strips of bacon.
Then combine in a festive casserole dish and season with garlic. Top with sun dried tomatoes and a sprinkling of balsamic vinegar.
I put the casserole in a preheated 350-degree oven for 30 minutes. Then took it out and topped with cheese of choice, a few whole basil leaves. I covered it, returned to oven and baked 15 minutes. Final cooking stage — lid came off to bake another 15 minutes or longer, until cheese began to slightly brown.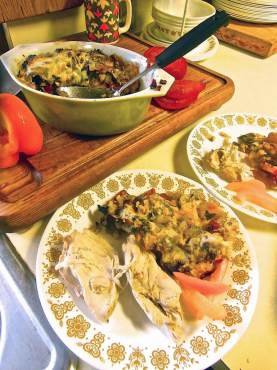 It was served with baked chicken and fresh slices of yellow bell peppers.
Something this yummy and healthy deserves a nice visual presentation. I selected a "Verde" green, 1.5-quart, quart oval Pyrex casserole with olive pattern lid to act as the baking dish as well as the serving dish.
For a country look, I used "Butterfly Gold" Corelle dinner plates on a vintage cotton, floral tablecloth. We selected a red wine, but any wine or beverage would work just as well.
Basil is an interesting herb in that you can't overdo it. Or I should say, it seems that way to Earl and me. I don't know anyone who does not like basil and I have never heard someone say, "This is too much."
This is a good time of the year to test that theory. But hurry, basil season is at an end.