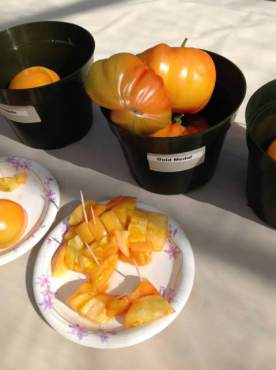 Mid-September brings a bounty of tomatoes to harvest and there is no better place to experience the many flavors than at Brothers Greenhouses Annual Tomato Tasting event in Port Orchard, not far from the Bremerton National Airport on South 3.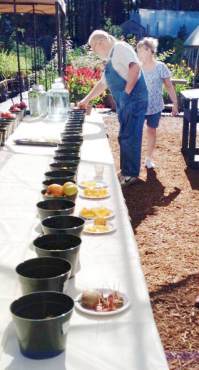 Fifty tomato varieties were available for our tasting pleasure this past weekend and those included small cherry, medium and large tomato varieties with colorful names and flavorful tastes. So many were on display, a gardener could have a hard time narrowing choices.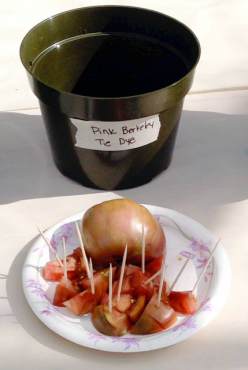 Sam Maupin and his lovely wife, Elise Watness, are passionate about tomatoes and growing great tasting tomatoes that grow well in the Kitsap area. At the event, which was open to the public, guests were invited to taste and evaluate as many varieties as desired. Ballots for evaluations and a bookmark-size note sheet were available with names of all the varieties grown.
I asked Sam about his trial and he explained the organic production of using only chicken compost in 10-gallon pots, then granular calcium applied in July to prevent blossom end rot. However, that was not a perfect preventative solution because a few did get blossom end rot.
Sam said that tomato starts will be available between April and June next year, with Mother's Day generally being an average time to plant the starts out in the garden. The evaluations will be taken into consideration when he decides which varieties to plant and offer for sale at the greenhouse. Last year's results convinced him to plant more heirloom tomato varieties this year.
Some of the tomatoes definitely were beautiful to look at and have fascinating names. Pink Berkeley Tie Die, Pineapple, Persimmon, Moby Grape and Indigo Blueberry were colorful and flavorful, but not the best when I get to be the judge. Next year, you should go to the event and decide for yourself.
After tasting about a dozen types, I narrowed my favorites for next year down to three varieties. My prejudice is for sweet tasting, low acid tomatoes:
Sunsugar: A yellow cherry tomato was the sweetest yellow I have ever tasted. On par with the red cherry Sweet Million or Sweet 100
Moskovich: A medium-sized tomato that I actually grew last year and was the first to ripen in my garden in 2013
Gold Medal: A large, bi-color heirloom tomato with the form of a Beefstake tomato.