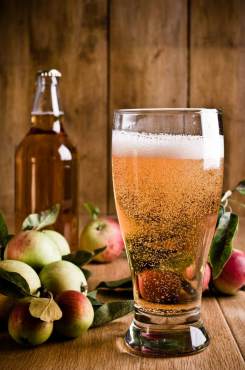 Discriminating drinkers, get your taste buds ready and head to Gig Harbor on Sept. 27 for Cider Swig — a new event that will feature about a dozen hard cider producers from our region, bringing a total of more than 50 types of cider for festivalgoers to sample.
A fundraiser for the Greater Gig Harbor Foundation, Cider Swig also has a family component, so all ages are welcome. As part of the Greater Peninsula Cider Festival, the event will include live music, children's activities, food vendors, regional art, demonstrations and event an apple launch competition.
Only the cider garden has an admission fee — the rest of the festivities are free. The tickets are limited, however, because organizers want to make sure the cideries don't run out of cider. So if you want to get in, advance tickets may be your best bet (plus you'll save a little money if you buy by Sept. 19).
The event coincides with National Public Lands Day and volunteers who participate in parks projects in the morning with PenMet Parks, Key Pen Parks or City of Gig Harbor get discounted admission and other fun perks at the festival, which kicks off at noon at Gig Harbor's Sehmel Homestead Park. Volunteers are also wanted for the festival — and receive various benefits for their time.
Hard cider has been making a comeback and several cider festivals have popped up around Western Washington in the past few years. But this is the only one in West Sound.
Crystie Keiser with Finnriver, a Chimacum farm and cidery that will be a vendor at Cider Swig, says the beverage appeals especially to hybrid drinkers, like wine connoisseurs who want a lower alcohol content or beer enthusiasts who want a gluten-free option.
Cidermaking is similar to winemaking, she explains, but it also has a lot of possibilities — Finnriver, for example, infuses the cider with things like currant or habanero peppers. There's quite a bit of complexity involved, and everything from apple variety and fermentation speed, to the amount of tannins can influence the flavor.
The Resurgence of Hard Cider
Cider, or "hard cider" as we know it today, was once a popular beverage in American homes. Long before beer became the drink of choice for the masses (around the early 1900s), cider was being fermented from pressed apples in almost every Colonist home in New England — and the idea spread west from there.
Johnny Appleseed (real name John Chapman), in fact, was a missionary who traveled ahead of settlers to graft cider apple trees, and then visited those nurseries every year to check on the trees.
It wasn't until an influx of German immigrants brought their taste of beer to the States that cider's popularity began to decrease, especially as beer production became easier. And then the Prohibition just about killed the industry — while it was easy to start growing barley and brewing beer again, it would have taken years to bring back the cider apple orchards.
As the saying goes, turnaround is fair play. Beer — craft beer in particular — gets part of the credit for bringing attention back to hard cider. Appealing especially to the younger crowd, craft beer production has grown over two years from 11.5 million to 15 million barrels in 2013 but hard cider production has tripled, according to TIME magazine.
The Northwest is leading the renaissance, and the number of cideries in Oregon and Washington has been growing steadily. In fact, when Dave White got together with a few other enthusiasts and created the Northwest Cider Association, there were only eight member cideries. Now, membership has surpassed 45, with cideries from as far as Montana and British Columbia.
White, who owns Whitewood Cider Co. in Olympia with Heather Ringwood, will be serving his ciders at Cider Swig and says he's excited to see more events dedicated specifically to this rising industry.
"Everyone has beer festivals and it's nice to have a change of pace. We have more opportunities now but it's great to see a festival closer to home," says White, who is the cider association's president.
Whether you like craft beer or wine and want to expand your palate, or whether you're curious to see what all the commotion is about, an event that brings 50-some regional ciders under one roof (so to speak) is not to miss. And knowing that you're supporting local environmental and parks projects — that's something to cheer about, indeed!