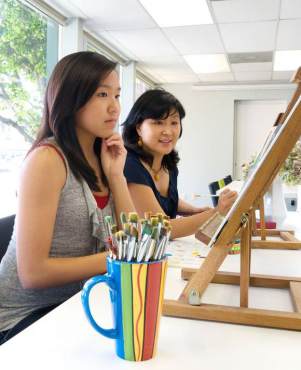 Have you ever looked at a piece of artwork and thought, "I'm not artistic," or, "I could never do that"? According to an Adage.com article, only 25 percent of people feel that they're living up to their creative potential. That means that 75 percent of you feel that you're not!
If you are part of the 75 percent, would you like to start creating?
I believe we all have some kind of artist inside. Art shows itself in many forms: through gardening, decorating, cooking, painting, writing, dancing, sculpting, photography, music and more!
If you are among this group of personal naysayers but actually have a desire to be creative, how do you dip your toe in the water and experiment? There are three steps to breaking through the "I can't" barrier to get yourself on your way to creating.
First, we must look at why we don't try our hand at artistic endeavors. It comes down to interest, time and drive. You must have an interest, you must make time for it, and you must not give up too soon.
As for the ability aspects, I subscribe to the idea that it doesn't have to take much of it to get started. It's really all about the process and having fun.
Second, we must get past two stoppers — self-doubt and being self-conscious. This is where positive affirmations will come in handy:
I am artistic, I have no fear.
Everyone will love my artwork, including me.
And so on…
Third, once you are no longer afraid of trying and of the outcome, you are ready to move forward and get creative.
How to Start
Find your interest: What are you interested in? If you aren't sure, your soul will point the way. What has interested you in the past? What have you always thought would be cool to try? If no one was looking and judging the process or outcome (including you), what would you try? That's your direction.
Find a way to learn:

Be self-taught — find resources that others have provided on your own time.

Youtube videos
Books
Kits

Sign up for classes — find a group, meet new people and be open to the process of learning.
Take private lessons — if you lack the time, try this route for a more personal and accelerated way of learning.

Get started!
What did your mom always say? Practice makes perfect!
Well, part of that is true. Your product does not have to be perfect for success, but practicing, playing and experimenting helps you learn your new craft. Who cares if you even have a gift or not, the joy of the experience will have been the most important thing.
Happy creating!