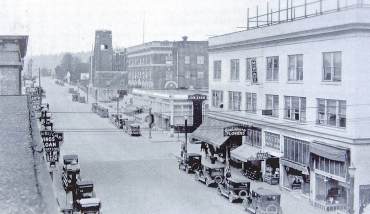 Bremerton is a city of surprises. Here are a few things about its history that you may not know.
Bad Bremerton
Oldtimers see Bremerton as a quiet but somewhat roughneck old city, pulling up its tattered bootstraps. Newcomers seem to see a newer, kitschy version.
Many don't realize that Bremerton was really, really bad way back when. In fact in 1905, the U.S. Navy threatened to pull out if the little boomtown didn't shape up. Brothels lined much of lower Washington Avenue, connecting to Front Street (now First Street), where numerous saloon patrons witnessed continuous brawls and murders.
My friend Les Lewis, a third-generation mortician, showed me a gun one day. He said that there were two guns, but his grandfather only took the one that appeared to be in better shape.
It was a saloon fight back in Bremerton's wild, turn-of-the-century days. Two guys came barreling out of a bar, both with a gun in each hand. While bullets were blazing, they killed each other dead.
The horse-drawn hearse came and loaded up the bullet-riddled bodies. Lewis was handed two of the guns but only took one, the one passed down to Les. It was the gun he showed to me.
Bremer Sells Property to Navy
At one time, the Bremer family owned most of Pacific Avenue all the way to the waterfront. The Navy needed some of that land to expand the shipyard. With sale money in hand, Mrs. Bremer hired Harlan Thomas to design two structures, each to be duplicated twice.
Thomas was a famed Seattle architect and head of the University of Washington's School of Architecture.
One of those buildings he designed is my building at the corner of Pacific Avenue and Fourth Street, built in 1922. It is now called the 4th Pacific Arts Building and reads such on a large sign that was originally installed for the Christensen Shoe Store, the previous owner.
Across the top of the building facing Pacific Avenue are large letters that read "Harlan Thomas," and spanning the same wide trim are intermittent large "Bs" signifying that it was a Bremer building. All can be seen today.
Historian Fredi Perry noted that Thomas was an avid watercolorist, and in the early 1950s Seattle's Henry Gallery held an exhibit of his work. Records show that only two paintings sold, both purchased by the Bremer family.