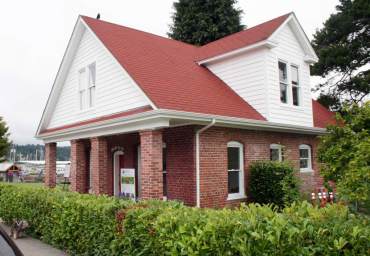 In 2002, following the death of Gig Harbor pioneers Antone and Vincent Skansie, the city of Gig Harbor acquired the historic waterfront Skansie Brothers home and property located in the heart of downtown. For 12 years, the park surrounding the house was improved but the house sat empty.
Last month, following extensive renovation to bring it up to code, the home, which is now on the National Register of Historic Places, opened as the new Gig Harbor Visitor Information Center. It was a long time coming, but definitely worth the wait.
Built in 1910 by Peter Skansie (second story added in 1912), the home and property housed generations of Skansies and a commercial fishing operation, and sat next door to the Skansie Shipbuilding Co.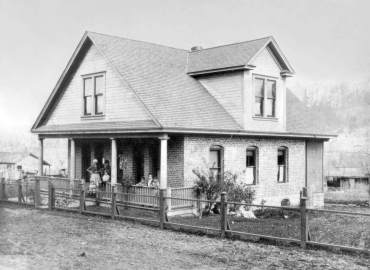 The Skansie family had a significant impact on the development of the maritime community of Gig Harbor for nearly a century. And therefore it is fitting to finally have the home open to the public to enjoy.
In a unique partnership between the city of Gig Harbor and the local nonprofit Harbor WildWatch, the new Visitor Center houses a variety of interesting, helpful, educational, entertaining and fun items and information.
Karen Scott of the city of Gig Harbor says, "The house itself provides an interesting exploration of architecture of early Gig Harbor. Through interpretive materials, you can go back in time to when the Skansie family occupied the property and you can imagine life in the early 1900s."
The Visitor Information Center, which is perfectly located in the heart of the historic, pedestrian-friendly, waterfront downtown, will of course also provide all the information you need on dining, shopping, lodging and events and festivals in Gig Harbor. The center is staffed by a wonderful group of knowledgeable local volunteers who are excited to tell visitors about the community's rich maritime heritage, arts and activities.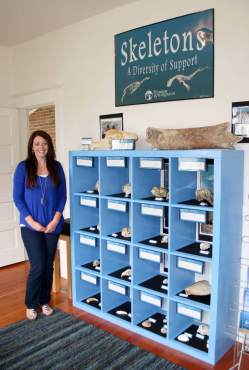 But that's not all. Harbor WildWatch is now located in the building, with its offices upstairs and interpretive displays on the main floor. Rotating displays will focus on local marine animals, and information will be available on the variety of programs Harbor WildWatch provides the community regarding Puget Sound ecosystem and marine life.
"This is a truly unique relationship between Harbor WildWatch and the city of Gig Harbor," says Lindsey Johnson from Harbor WildWatch. "We believe the establishment of an interactive center that accentuates the maritime community is the most effective way to bring both prominence and vitality to the visitor's experience in Gig Harbor."
The Gig Harbor Visitor Center at the Skansie House is located at 3211 Harborview Drive and is open from 10 a.m. to 4 p.m., Wednesday through Sunday May 1-Sept. 30, and Thursday through Saturday Oc. 1-April 30.
The Gig Harbor Chamber of Commerce Visitor Center remains open to serve visitors on the days the Skansie House Visitor Center is not open.