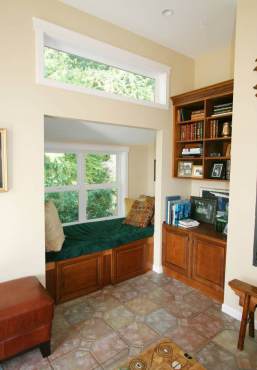 Whether you need more space in your existing home or you have an odd space that is unused, look at some creative options for using space in your home.
Have kids? If you have a stairwell, turn that useless under-stairwell closet (you know, the nightmare that has to be fully unloaded to find anything) into a cool playroom for the little ones. You can open up the wall and make a window to the playhouse, adding some shutters or decorative trim to dress it up.
If your kids are a little too old for that, consider opening it all up and creating a reading area or desk/craft niche. If you want to hide the mess when not in use, add a barn door on a track that rolls to the side.
Need a home office but lack the extra room to dedicate? Turn a closet into an office. You can leave the doors on to hide the workspace, or take them off. Add some base cabinets and countertops, and some shelves or cabinets above for more storage. You'd be surprised how well an average closet can work in this way.
Closet offices are great for home bill-paying centers or for kids in their rooms as good workspace for homework time.
If you are building or remodeling, a space as small as 5-by-8 makes a great office or craft space. Add an L-shaped counter and cabinets as you please, and you have an awesome spot to work or create in. If your budget doesn't allow for cabinet costs, you can buy the preformed counters with the backsplash in a variety of attractive colors at the local box store and install them while using storage bins below.
Odd architectural spaces and niches make great spots for a lot a cushions or pillows, creating a reading spot or a music zone. If you are building from scratch, it's a great time to plan one of those spaces for your favorite pastime.
With a little imagination and creativity, you can make an odd space into an awesome space that will be the envy of all who visit your home!