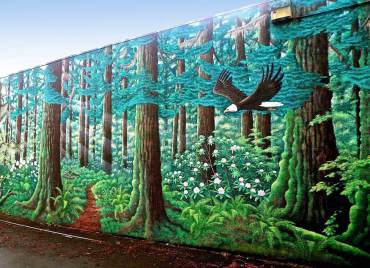 Bremerton's world wonder, yet to be noticed: On the concrete back wall of the 7-11 store at 6th Street and Park Avenue is a 50-foot, life-like forest mural. Across the alley, the mural continues on the back wall of another concrete wall that spans 100 feet.
Unfortunately, few realize that the impressive art exists.
It was created by lead Bremerton artist Dennis McDaniel and a committee.
Some 15 years ago, I bought the house next to the 7-11 store. I grew up in the neighborhood with both grandparents living on that block as well as the family plumbing business being where Monica's Social Club is now located.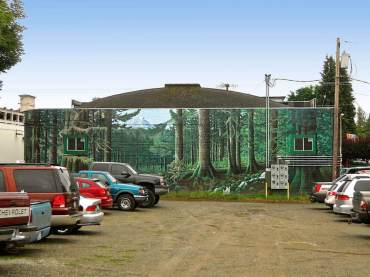 It was rough — drugs and prostitution ran rampant, and the first week I had the place, a transient was beaten and killed on my front sidewalk.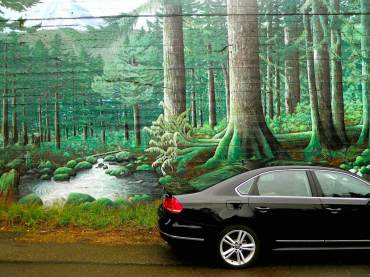 Since my heart was in that neighborhood, I decided to do something. We fixed up the house, painted it a gray-pink color and called it "The Rose Cottage." The back 7-11 concrete wall that spanned most of the property was like a blank canvas. I paid Dennis to create a mural.
Like a sort of magic, one of Kitsap County's most crime-ridden areas was seeing a little positive light. Then a few of us formed a committee, began raising money and tackled the next alley concrete wall. It was a massive endeavor.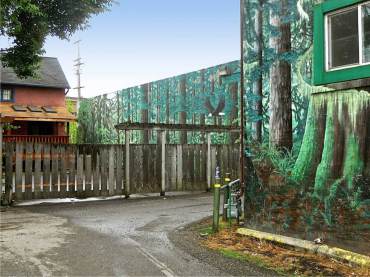 The Committee did not get paid, but we did want working artists to be paid, as too often artists are expected to donate their time and talents. It wasn't much, but it was something. Dennis McDaniel got $15 an hour, and an assistant $10 an hour. This was some dozen years ago.
The city of Bremerton saw the merit and made a major contribution to the project. The contribution made it possible to apply an expensive application to the finished creation, so as to help clean off any graffiti.
Project complete, years went by, crime decreased. To everyone's surprise, in that time there was only one small patch of graffiti, soon corrected by two local folks.
Problem is that this world wonder is seldom seen by the public. Come off Park or Warren Avenue onto 7th Street and across the large parking area you can see the spanning forest mural.